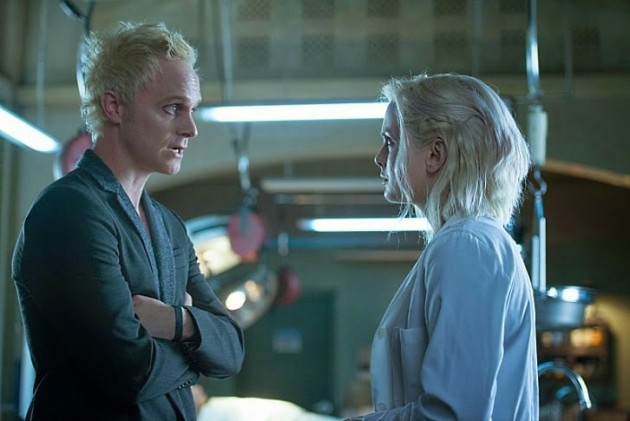 Second episodes, much more so than pilots, give you a better indication of what a series will be like moving forward. After tonight's fantastic episode, I'm almost ready to declare iZombie my favorite new show of 2015, as the series gave us everything that was so charming and entertaining about the show's premiere but added a little something extra with the proper introduction of David Anders' Blaine.
And really, Blaine's introduction is the best place to start when talking about "Brother, Can You Spare A Brain?" From his first encounter with Liv in the morgue to the reveal that he's not really the rehabilitating figure he claims to be, Blaine's presence provides a new spark to iZombie. Whereas the show's "mysteries of the week" are pretty straight-forward, procedural stuff, Blaine gives the show a real villain to play with and a chance to explore this universe's zombie mythology in a deeper and fuller way.
Furthermore, Anders is great in the role, and his scenes with Rose McIver really pop. Even though Liv won't admit it, there's a part of her that, on some level, is fascinated with Blaine and the way he goes about his life, and that buried curiosity works well, hidden underneath her disdain for her fellow zombie. And hey, it's not like Liv's dislike of Blaine isn't warranted; he is the guy that tried to hit on her, sell her drugs, and then turned her into a zombie–she kind of has some good reasons for not being his number one fan.
While the threat of Blaine and whatever he's up to (he says that he's trying to take over the city, but does that mean he plans on turning more and more people into zombies like the older woman he turns in tonight's episode?) should certainly provide some darker material for iZombie to dig into throughout its first season, what's most appealing about the series to me is its ability to have fun. By having Liv essentially take on the identity of a new person every week (last week it was an escort; in this episode, it's an overly romantic painter), the show is able to show off its playful side and let its protagonist do and say a lot of things that she normally wouldn't. McIver absolutely nails every comedic moment she's given (her delivery of every poetic facial feature to the sketch artist was particular highlight). Plus, as I mentioned in my review of the premiere, it also helps how real and established her rapport with both Clive and Ravi already feels; I seriously could watch an entire episode of just the three of them hanging out and talking and be totally fine with it.
Perhaps what's most impressive about "Brother," though, is the work iZombie puts into Liv's relationships with the people from her past. Even though her mom is absent from this week's episode, we get a little more backstory about her and Peyton and what their friendship used to be like. iZombie still needs to give Aly Michalka more to do than just judge Liv and complain about things, but after only two episodes, it's understandable why her character isn't fully fleshed out yet. Still, the scene she and Liv share at the end, where they both look at her painting now hanging on the wall, is the type of nice, friendship moment that I hope we see more of as the show continues.
However, even though the bond between Liv and Peyton's needs to be explored a little bit more, iZombie does a very nice job with Liv and Major's relationship in "Brother." Instead of letting Liv simply stroll back into her ex's life, iZombie makes its main character face the consequences of her actions; she shut Major out for six months (believing it was best for him), and he's still understandably hurt by her behavior.
Liv's new purpose, solving cases with Clive, is reopening her to many of life's possibilities, and it makes complete sense why she would gravitate towards Major, who represents something that's familiar and comfortable and safe. With so much uncertainty and worry affecting her everyday life, from her constant fear of being discovered to the difficulty of keeping all of the lies she tells in order, Liv wanting to slip back into her old life, just as she's finding her passion for living again, feels honest and real, and McIver's performance only elevates the already strong material.
"There were parts of me that were dead even before I became a zombie, so maybe that means it's possible for parts of me to spring to life, even though now I'm dead," Liv says at the end of tonight's episode. We're already witnessing the reawakening of Liv's passion for life. Now it's just about where she'll direct that passion and how it'll shape her new, undead identity.
Other thoughts:
– As much as I'm loving iZombie so far, I can't find myself caring too much about the show's standalone cases. It didn't really matter to me who killed Javier. I was more interested in how Liv's new "abilities" affected her and whatever Blaine was up to.
– And speaking of the characteristics that Liv acquires in this week's episode, can we again talk about how much fun they were? I laughed more at this episode of iZombie than I do at most sitcoms.
– The dialogue in this show continues to be witty, sharp, and oh-so quotable. Every single line delivered is fantastic.
– Ravi's energy (not to mention his sense of humor) is just infectious. It's great watching how excited he gets about anything zombie-related, and I'm really enjoying the development of his and Liv's friendship.
– All of Liv and Blaine's conversations tonight were some truly great stuff, particularly their debate of "raging out" versus "full-on zombie mode" and their discussion about how much they miss real food.
– Blaine's little speech about zombie oversaturation was a nice meta-moment for the show.
– "I'm a quarter Cherokee." "Yeah, you are."
– "You really nailed the historic chin. Bravo!"
What did everyone else think about tonight's episode of iZombie? Are you enjoying the show as much as I am?
[Photo via The CW]