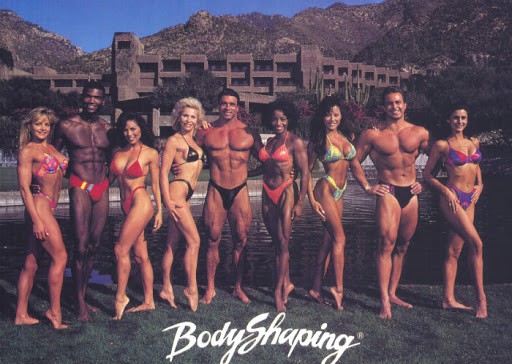 It definitely feels as though BodyShaping wouldn't be accepted nearly as readily as some might think it would right now, especially with everything that's been going on lately. But maybe that's why it would be seen as a good idea to push through since there are times when resistance to something somehow convinces studio execs to push one idea or another. Maybe ESPN could take the show and make it a little more sensitive to the plight of those that don't have such fit bodies, but it's likely that it wouldn't happen since the goal of this show after all is to show people how they can stay fit and how they can change their lives around in a healthy manner. With obesity being such a huge problem in the country it's fair to think that this might actually be an idea that's on the table, but if it is then it's been a pretty well-kept secret.
In truth, it's likely more of a thought as to what could be done with old material, or what could be used as a guide to bring another show into being that might help people out when it comes to changing their life in some drastic way. Good health is, after all, a very important part of life and there are many people out in society that could benefit from a few episodes that might grant them an idea of how to affect their diet, their workout routines, and even possibly gain muscle and shed some unwanted pounds for the summer. It's not bound to happen right away, but one could at least think that maybe by next year this show would be useful. That's a matter of whether someone in charge thinks that it's worth the effort though, and as of right now it's a done deal.
The sad part about a show like this is that while it would try to do some good, it would likely be set upon by those that practice body positivity or those that think that being overweight is healthy and beautiful. When it comes to the perception of beauty it's best to say, to each their own, but when it comes to being healthy, added weight that taxes the body is anything but healthy, and many of those that would chastise a show such as this are typically those that are envious, under the serious self-delusion that being obese and out of shape is perfectly okay, or are being contrary simply for the perverse joy of it. There are plenty of people that work out just as hard, if not harder than those on the show, but still have had trouble losing weight.
Shows like this could possibly show these individuals a new trick that they might want to try, or a different technique that they might need to reach the goals they set. This is why a reboot would be a good thing since to be certain, shows such as this feel a bit pretentious at times since looking at the hard bodies that are on the screen can make a lot of people self-conscious about the jiggly, soft parts of their bodies. But when one learns how to avoid taking such things personally it's possible to look at these shows as another resource to at least consider using since there are many different ways that can help a person get in shape. There's no one right way to work out, and there are many exercises that might not work the same for different people, which is why this show and many others are great since they offer up a variety of different ways to reach the same goals.
Whether it will ever come back or not is hard to say since the flak it might receive for being a haven for musclebound individuals that might be accused of body-shaming (hopefully not, but that would be an argument) would be terrible no doubt. It might sound confrontational, but the nation as we know it today is the type of place where ideas of getting in shape and staying that way have changed quite a bit since the 80s and 90s. These days if one looks at a bigger person wrong there's a chance that they might be accused of fat-shaming, and perhaps even accused of having 'thin privilege'. Yes, it's a mess, and shows such as this are still considered to be relics that today's people don't always want. So of course it would be a great idea to bring it back if only to make it clear that the lifestyle that many people practice, being obese and complaining about it, isn't essential or even desired, it's simply weathered because people give up. It couldn't hurt, and in fact, it might even do some good to bring this show back as a reboot.