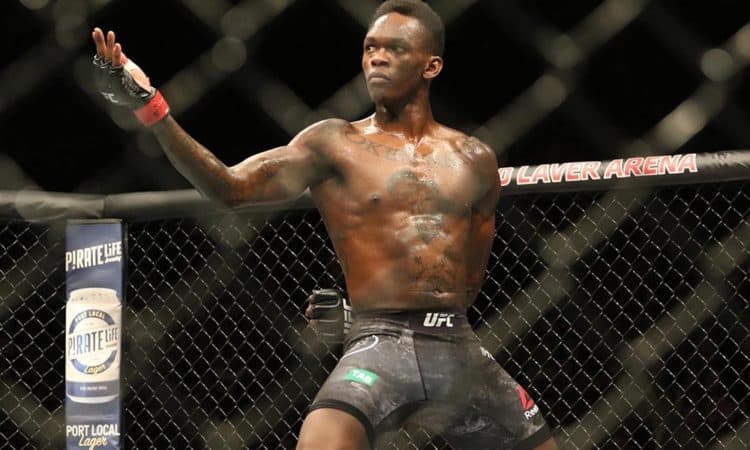 One of the biggest stars in the UFC right now is the current Middleweight Champion Israel Adesanya. After coming off a very impressive performance in the rematch with Marvin Vettori, The Last Stylebender is waiting to defend his belt yet again. Oh, and believe me, he will defend it. Whether his next challenger be Robert Whittaker or another middleweight contender, I'm more than confident that my man Izzy will defend his belt. The only way he'll lose it if he decides to retire soon, which I hope he doesn't. Then again, I could be wrong. Upsets tend to happen in the UFC, but I think Israel Adesanya is here to stay for a while. Given that he's one of my favorite fighters, I certainly don't mind. However, fans of The Last Stylebender know full well that he is a hardcore weeb. In other words, he's a super big fan of anime. I mean, just look at his nickname. Does that sound familiar? If it doesn't then go on Netflix and watch the animated Avatar: The Last Airbender series and you'll understand right away. The guy even has a tattoo of the blind Toph Beifong on his forearm. That's just one of the several tattoos he has on his tall body, but I will say, most of them are related to some kind of anime.
Needless to say, Israel Adesanya is a giant nerd. To put it more accurately, he's a giant nerd that can fight and probably turn your lights off. There's actually more of these kinds of fighters than you think in the UFC, but Izzy has got to be the baddest one. Oh, and he can break dance like a freaking beyblade. Israel Adesanya is a man of many talents, but other than his incredible fighting skills, I just have to admire the fact that he's a big nerd. With that in mind, I think it's appropriate if Israel Adesanya made an appearance in a future comic book movie or series. The one I have in mind is the upcoming Wakanda Forever series. What character, you ask? To be honest, he doesn't have to play a character from the comics. Why not create an original character just for him? I think that's the best move, especially for someone like him. If you're not a fan of the UFC, then you probably need more convincing. Why would I specifically choose Israel Adesanya above all the other fighters in the UFC? I actually recently wrote about Conor McGregor and which comic book character he can possibly play. For him, I was a lot more specific for both Marvel and DC. Granted, he's no longer a champion and is currently dealing with a terrible injury, so the chances of him transitioning over to movies is more likely. He's another major superstar and having him in a comic book movie or series will likely draw in the viewers.
For Israel Adesanya, he's still in his prime and wants to fight, but even he has said that when he retires, he'd like to an anime production company. I have to say, that would be so freaking awesome. But you know what else he can do? Actually make a physical appearance as a Wakandan warrior alongside Okoye and Nakia. There is no better fighter in the UFC to do it. Why don't we start from the beginning and I think you'll be convinced. The Last Stylebender's full name is Israel Mobolaji Temitayo Odunayo Oluwafemi Owolabi Adesanya. That is quite the mouthful, isn't it? Born in Lagos, Nigeria, the son of an accountant and a nurse, the future UFC Middleweight champion was the eldest of five children. As a young man, he took up Taekwondo until his mother forced him to pull out due to an injury. At the age of 10, his family relocated to Rotorua, New Zealand. Throughout his high school years, Israel Adesanya wasn't into fighting, but he was watching a lot of anime. From Death Note, to The Last Airbender, and his most favorite, Naruto, this future fighter was a master weeb. When he turned 18, he decided to start training in kickboxing after watching the very awesome Muay Thai film Ong-Bak.
This is where the fighting career of Israel Adesanya began. As a dominant kickboxer, Izzy made his way to an amazing UFC debut back in 2018. It took him only a year in the UFC to get a belt wrapped around his waist. After knocking out Robert Whittaker and unifying the Middleweight Championship, he made quite the intriguing statement. Speaking at the Marvel Stadium in Melbourne, Australia, Izzy urged Marvel Comics to work on something together. Okay, now I'll admit, I'm really fanboying here, but how can you possibly turn down the idea of this man fighting as a Wakandan warrior? If Israel Adesanya himself wants to do it, then Marvel should consider it. Above all else, this man is one of the best strikers in the UFC, not to mention of of the most flashiest. Take some time and watch some of his fights. The way he moves and kicks is just a thing of martial arts beauty. That's precisely why he would be perfect for the upcoming Wakanda Forever series on Diseny+. Sure, he doesn't have much acting experience under his belt, but that doesn't matter. As I said, he's more than interested, so I'm sure he'll spend some time with an acting instructor. But let's be honest, we just want to see him fight.
And I should probably mention that Israel Adesanya is multilingual. He's fluent in English, as well as several African languages, which you'll occasionally hear him speak after his fights. That means he'll sound more than authentic when he's speaking the fictional Wakandan language. Now, who should he play? I'm more than okay if he plays an original character written just for him. I think it's a suitable role for him, but he can possibly play some enemies of Black Panther. Choose the White Wolf or the lesser-known Tetu, I don't think it matters. The Last Stylebender will pop up on screen and he'll do his usual tricks. Boy, I just get a total kick out of watching him every time he's fighting. No pun intended.
Tell us what's wrong with this post? How could we improve it? :)
Let us improve this post!