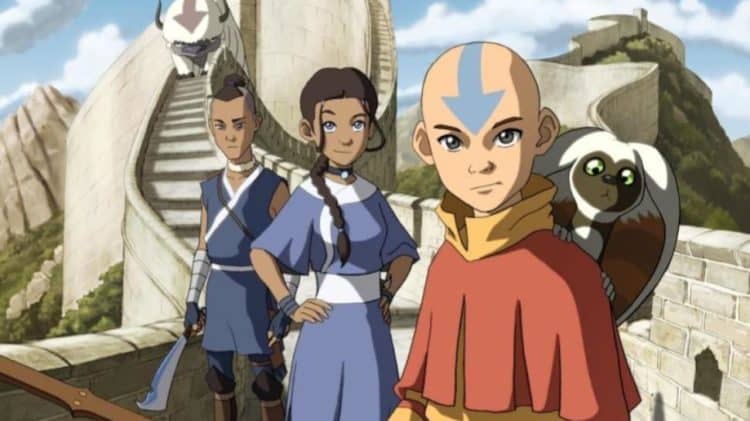 Ten years ago, it seemed like a bad time to be a fan of Avatar: The Last Airbender animated series. I hate to bring it up again, but remember that atrocious 2010 movie? Boy, and this is coming from someone who actually likes M. Night Shyamalan. Now I've written once before that I actually checked out only a few episodes of the animated series before I watched the 2010 movie. I dug it at the time, but those were a few episodes in the first season. I didn't watch it from the beginning, so it didn't feel right to continue until I started with the first episode. Well, then the 2010 movie came out and my enthusiasm kind of just died afterwards. Thankfully, Netflix had the whole series to watch and I spent a portion of my quarantine binge watching it.
Now when I began with the first few episodes, small memories came back, but it was obvious how the show was for kids. I still dug it, because the mythology behind it and the characters intrigued me. Once I continued watching the subsequent seasons, I became more and more interested. Each season became less "kiddish" and explored more adult themes. The main characters experienced the horrors of war, child abuse, and each character matured throughout the series. Aang, the main star of the series, began as a naive child and learned to hone his extraordinary powers. His journey, along with his friends, was basically about children learning to become adults. And in the end, Aang became the all-powerful Avatar and chose to defeat his enemies through control and mercy, rather than sheer force.
So watching The Last Airbender series was time well spent throughout the pandemic. It earned a fan and I was hungry for more. Speaking of which, it looks like we'll be getting a feature-length animated movie from the creators themselves, Michael DiMartino and Bryan Konietzko. This is good news for us fans, especially after they departed from the upcoming live-action Netflix series. By the way, I'm still excited for that. Yes, the creators are gone, but let's face it, they have no experience with making live-action shows. Netflix, on the other hand, has an impressive track record when it comes to making live-action shows, so I have a feeling that the live-action series is in good hands.
In fact, after the news of this animated feature came to light, it made me wonder if the creators want a little payback. Why did they leave? The answer, which is the usual one, is creative differences. Whatever they disagreed on, we will never know, but it's a win-win situation for all of us. Why? Well, look at it this way: we'll be getting two different forms of The Last Airbender. The Netflix show will be a retelling of the animated series, but in live-action form. I can see some fans calling that unnecessary, but in my opinion, that alone makes it interesting. Okay, I guess we already got a taste of that with the M. Night Shyamalan movie, but I think Netflix respects the series more.
However Netflix intends to change the story, I'm still very anxious to see the mythology and the characters play out in live-action form. Now this animated movie the creators have in mind is a different story. I know I speak for all the fans when I ask when and where will this movie take place? Will it pick up right where the animated series ended or will it tie directly into the Legend of Korra series?
Personally, I wouldn't mind seeing all the main characters as fully grown adults. Okay, now I'll admit, I haven't really caught up with the Legends of Korra series. I tried the first few episodes and it just didn't grab me the way The Last Airbender did. However, I do know that the Legends of Korra series takes place seventy years after The Last Airbender, and it makes brief references to the original characters. I did a little digging on the internet and found some images of an adult Aang and Katara. Boy, did they look awesome. Oh, and let's not forget old man Zuko. I mean, it's pretty much impossible to not recognize him.
Aang and Kitara got married and had three children together, but Aang's story ended with him dying at the age of 66. He still looked young (he was trapped in ice like Captain America) but he never got to see his grandchildren. His appearance as an adult was his spirit acting as a guide for Korra. It was a relatively small role, but it was still cool to see him as a wise adult.