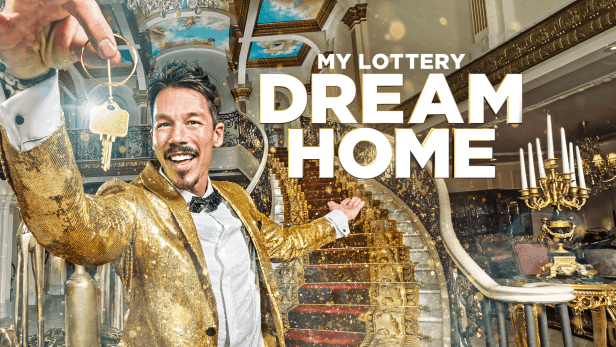 If you were to win the lottery, what is one of the first things you'd do with the money? For many people, the answer to that question is purchase a new home. The HGTV series, My Lottery Dream Home, aims to follow people on their journey of purchasing a home with their new lottery winnings. My Lottery Dream Home is hosted by designer David Bromstad and he works with local real estate agents to find beautiful homes in the lottery winners' price range.
The show's heartwarming angle has always drawn viewers in, but lots of people can't help but question whether or not the series is real. After all, several HGTV shows have been proven to be a little on the fake side so if that were the case with My Lottery Dream Home it probably wouldn't come as much of a surprise to most people. So is there more than meets the eye with this popular series? Keep reading to find out if My Lottery Dream Home is fake.
How Are People Chosen For The Show?
The way people are cast for a show is always a good place to start when discussing how real or fake the series is. The good news is that the casting process for My Lottery Dream Home seems to be pretty straight forward. The show has a casting page on the HGTV website which provides information on how lottery winners can apply for a chance on the show. The page itself doesn't offer a lot of information, but people who would like to move forward can email the casting team directly.
The website doesn't mention if there is a threshold to how much lottery winnings a person must have, but there's a good chance they are looking for a certain amount of money. If a person doesn't even win enough money to be able to afford a property then they probably wouldn't be a good fit for the show.
Is My Lottery Dream Home Fake?
At this point, we all know that every reality show has some elements that aren't exactly 'real'. Apparently, however, My Lottery Dream Home is a lot more real than many other reality shows. With that being said, however, there are some elements of the show that are a little falsified for the same of good TV. For example, according to Distractify, the reactions sometimes have to be re-recorded. Other than that, however, things seem to be pretty legit with My Lottery Dream Home.
So, how is this show able to keep it real while others seemingly have to make things up for added entertainment/production value? TV executive Mike Krupat says the answer is pretty simple. He told Media Week, "Lottery winners don't really need the exposure and they don't need the money to participate. The truth is they have great stories to tell, which is appealing to them." That being said, however, Krupat admits that it wasn't always easy to find lottery winners who were willing to do the show. While talking to Media Week he shared that the production team reached out to 1,000 lottery winners for the first season, and only 10 people were interested.
After season one aired and people were able to see what the show was all about, interest began to grow. These days, it doesn't appear that they have any problem at all finding people who are willing to share their journey on the series.
In reality, most viewers probably wouldn't care if the show was fake. At the same time though, it's nice to know that it isn't. Plus, the fact that the show is real ties in nicely with the overall wholesome vibe.
The Future Of My Lottery Dream Home
My Lottery Dream Home has gotten eight successful seasons under its belt in just more than five years. Not only does the show appeal to people who love home design, but it also appeals to people who love stories about luck and food fortune. In just one episode, viewers can learn a wide variety of things.
At the moment, My Lottery Dream Home is airing update episodes that check in with former guests to see how they're enjoying their new property. New episodes of the show have likely been put on hold due to the pandemic, but there's no indication that My Lottery Dream Home won't be back with all new home buying journeys. For now, there are plenty of old episodes that people can go back and enjoy to get their feel good fix.