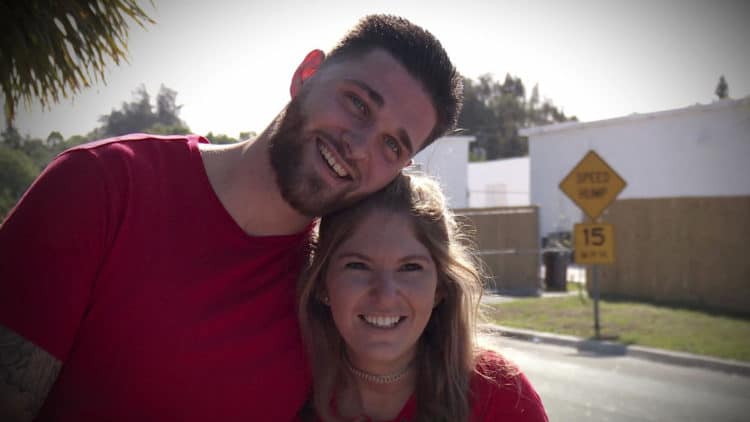 Although Love After LockUp has only been on the air for three years, it's already solidified its place in the bizarre world of reality TV. Each season follows couples in which one person is currently incarcerated or has recently been released from jail/prison. As you can imagine, the couples have lots of obstacles to overcome and they often find themselves struggling to make it work. While there's no doubt that the show is entertaining, lots of people have questioned whether or not it's all just in act. Sure, the truth may be stranger than fiction – but Love After LockUp brings an entirely new level of strange. Is Love After Lockup the real deal? Let's get into it.
How Is The Cast Chosen For Love After Lockup?
One of the first things to talk about when discussing whether or not a show is fake is how people are chosen to be on the show. Are all of the people on the show really just actors, or are their open casting calls? The good news is that the show seems to actually cast 'real' people through an open process. People who are interested in having their relationship featured on the show can apply through an online process. It appears the only requirement for consideration is being in a relationship with an inmate.
The only application appears to be pretty simple and only asks a few basic questions. Applicants are also asked to upload a photo of themselves and their partner. Sadly, there isn't any additional information on the casting process but in all likelihood, producers simply reach out to the people they're interested in moving forward with.
Is The Show Fake?
Accusations of the show being fake have circulated since the first season. If you've ever seen the show, it's easy to see why people could think it's scripted. In all honesty, however, the truth about the show remains a little fuzzy. According to The Cinemholic, the show isn't scripted and cast members lives are captured as authentically as possible. At the same time, however, heavy editing can easily make things appear differently than they actually happened.
Despite what The Cinemaholic has to say, however, lots of people aren't convinced. While the general consensus is that there are some real couples on the show, many believe that a few fake couples are thrown in here and there for the purpose of adding more drama to the show. There are also some people who believe that even though some of the couples are real, their storylines are made up. That being said, there is no legitimate proof to that the show is scripted or falsified in anyway.
Our best guess is that, like almost every other reality show, some of the scenarios are created by producers and cast members are encouraged to go to certain locations or bring up certain subjects. It seems pretty unlikely, however, that the show is scripted or uses actors. After all, a quick Google search can reveal that all of the cast members who claim to have been incarcerated really have spent time behind bars. That alone shuts down some of the theories about the people on the show being actors. Either way, if anyone on the show really is acting, they've probably signed an NDA that prevents them from ever talking about it.
Are Cast Members On Love After Lockup Paid?
Just because the cast members don't appear to be actors doesn't mean that they aren't getting paid for letting the network use their stories as content. According to Starcasm cast members "receive $2,000 per episode, with an additional $250 per day for any filming for special episodes like reunions, catch ups, etc." The source also adds that person in the relationship who isn't incarcerated is the only one who receives payment. It's also important to note that every cast member doesn't typically appear on each episode which means everyone's salary for the season can vary. Now that Love After Lockup has gained popularity, cast members may be able to command a little more money.
Life After Lockup
It goes without saying that Love After Lockup fans get really invested in the couples' stories and want to follow along with them once they're both together in the free world. Fortunately, WE TV created a spin-off series for that reason. Life After Lockup picks up where Love After Lockup left off and gives viewers the chance see how the couples adjust once they really start spending time together. If you thought Love After Lockup was crazy, the spin-off will definitely have you on the edge of your seat.
Tell us what's wrong with this post? How could we improve it? :)
Let us improve this post!