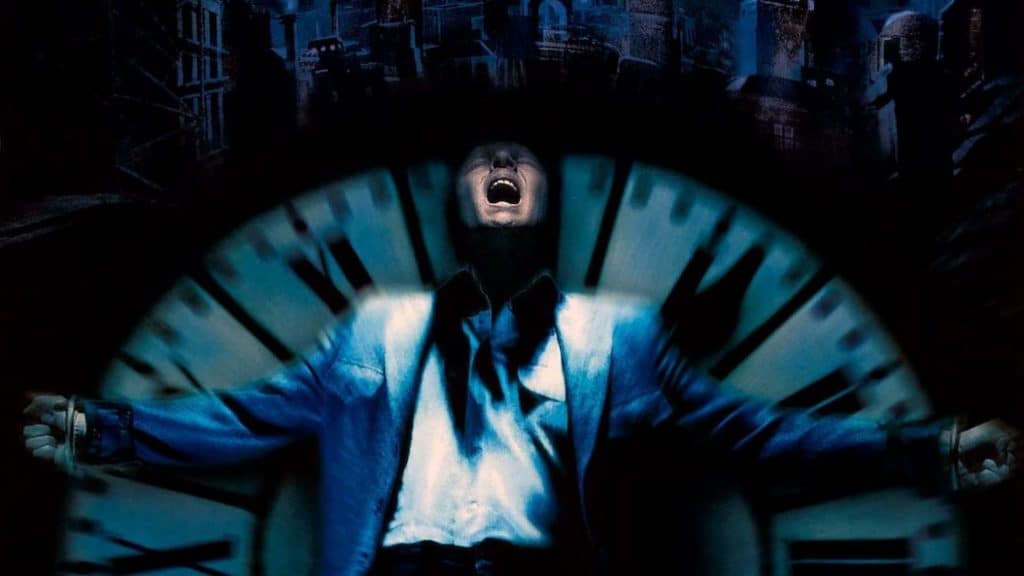 Back in 1998 a movie was released that confused a lot of people and turned some off, but inspired a great deal of imagination among those that would help it to become a cult classic over the years. It was dark, foreboding, and most of all, it made people think, which is a good indication of why it didn't take off like other movies that came out around the same time. It didn't lack star power, since even if Rufus Sewell, who played the lead character of John Murdoch, wasn't as well known as Keifer Sutherland, William Hurt, or Jennifer Connelly, he was still the perfect star for the role. The movie wasn't exactly slow to get moving, but it did give the impression that people had been given a puzzle with the most important pieces missing, and the quest to find them was what spurred John forward. As the movie went on though the questions kept mounting as John attempted to navigate a city he should have known quite well, but stumbled through for the most part due to partial memory loss.
This was the key part of the movie though, the idea of what part our memories play in our lives, and how they can be used to define us, to shape who we are, and what lasting effect they have on that core idea that makes us human. The quest for a soul was the main goal of the movie's villains, the Strangers, who were in actuality aliens that used human bodies as vessels. The collective they formed was one that had been studying humans for a long time, shaping the world that they'd created and watching, testing, and trying to find out what made humans unique. Their ability to harness and use memories in a way that would continually shift one person from one life to another was utterly creepy since it would indicate that humanity is comfortable accepting the reality that's given, and wouldn't question any feeling that ran contrary to what they were programmed to know. Dr. Schrieber, played by Sutherland, was their pet scientist, who was also in charge of changing the memories that the Strangers told him to, though upon trying to change John, he found something unique.
Somehow, beyond all reason, John had developed the Strangers' ability to tune, to affect the world around him using the same power the Strangers possessed. While he was initially frightened and couldn't speak to Murdoch right away, Schrieber eventually hatched a plan that would allow John to work the same subterranean machinery that the Strangers used to alter the surface of the world they'd created and inhabited, a literal darkened city held up by the vast machinery that had created it, floating through space on an apparently aimless journey. Using a batch of memories that had been created especially for John, with Schrieber somehow implanting himself into the middle of them to offer knowledge and inspiration, John eventually ended up becoming powerful enough to take on the Strangers, and to shape their city world all on his own, without the need for the collective. Their initial plan had been to absorb John into the collective, as his power would have been added to theirs, and thus concluded their long-running experiment.
The overall theme of this story might have been lost on a lot of viewers, but many still managed to grasp the point, that humans aren't bound by their memories, nor are they defined by one moment or another, but are instead bound by something far more mysterious than the memories and experiences that are gathered throughout a lifetime. The unique quality that each human possesses, that one thing that makes them who they are, is one of the main points of this movie, and it's likely that it was mired in the science fiction feel of the tale. If it were to get a reboot though there would no doubt be a great chance to push this idea forward in a much more effective manner. Also, the advance in special effects would only heighten what was already seen back in the 90s, which wasn't the worst that could be used, since it gave at least some scope to the story and made it clear that the powers at play were immense.
Bringing this movie back to the big screen with another attempt to tell the story would be kind of interesting, but it would definitely take someone who could understand the idea and present it in a way that might enchant as well as entertain the audience, while still making them think. Christopher Nolan might be a good pick for this type of movie, but there are bound to be many others who could make it work. As to the cast, well, that's kind of hard to say since all of them have aged quite a bit or are no longer with us.