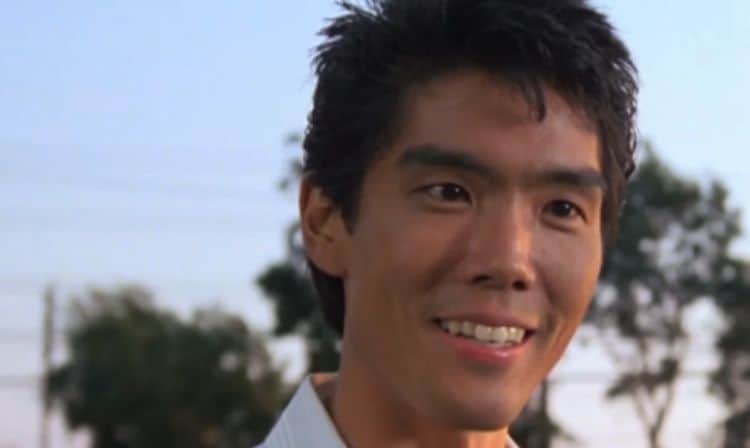 Cobra Kai's third season is coming in January and people can't wait to see another character from the past, but there's a theory floating around, one that has likely gained speed since the first teaser, that could help to explain why Chozen, another of Daniel LaRusso's rivals, hated Mr. Miyagi so much. Those that watched the movie probably realized he was a jerk from word go, but there was never much of a reason given as to why he was like this. In fact, the only explanation is that his uncle Sato hated Mr. Miyagi, so Chozen did as well, and this hatred naturally extended to Daniel because he was so close with Miyagi. But that sounds like mindless hatred without any real direction, doesn't it? Chozen appeared to have a serious hate for Daniel, one that couldn't be fully explained by a rivalry that didn't belong to either of them. It's already been shown how a personal rivalry can spiral out of control and affect the students of those involved and make a mess of their lives, but unlike the brawl in the school that occurred between the Cobra Kai and Miyagi-Do students, the issue between Chozen and Daniel feels deeper, as though there's something that might rock Daniel's world and give justification to Chozen's continual anger.
The theory is that Chozen might actually be Miyagi's illegitimate son, and while some people might laugh and say no way, the theory does stand up simply because it was never really mentioned who Chozen's parents are, which means that there's a good chance that Miyagi has at least one secret that he didn't tell Daniel, maybe even a couple. But as it can be heard in the Cobra Kai season three trailer, Daniel claims that Mr. Miyagi treated him like a son, and wouldn't keep any secrets from him. We then hear Chozen asking if he's sure about that, but things are still left up in the air for the audience to figure out. What if Chozen's resentment of Daniel and hatred of Miyagi stems from more than the hate that Sato passed on through the years? What if Chozen found out that Miyagi was his father and started hating him for running away? That's a long time to hold a grudge, but over something such as this, it's hard to imagine that such anger would ever go away. It could be that once Chozen lost to Daniel in The Karate Kid part two that he felt even more shame since he'd been beaten in front of his father by a student that his father had embraced so willingly, and his anger at seeing Daniel again could rekindle a fire that had been burning low for a long, long time.
This theory would make Chozen a much more sympathetic character than we were initially led to believe since back in the 80s everyone wanted to think that Chozen was simply a bully, much like Johnny Lawrence was. But if he had real motivation to hate Miyagi and thus Daniel, it makes more sense how he would feel slighted since his honor was already being challenged once Miyagi and Daniel arrived in Okinawa. In fact, their continued presence wasn't much different than rubbing salt into an already infected wound as Chozen had to watch Miyagi as the old man taught and protected Daniel in a way he'd never experienced since Sato didn't exactly feel like he might be the nurturing type. In a way, this would mirror the first movie since, like Johnny, Chozen would have tried to find someone that could teach him how to be strong, confident, and definitely how to feel powerful enough to handle his own life. Where Kreese gave that to Johnny, Sato gave this to Chozen. Unlike Kreese though, Sato eventually came to realize that his hatred was bound to defeat him long before Miyagi would, while Kreese, who might see a redemption arc, it's hard to say, knew only naked aggression and hatred.
Living with the knowledge that your father ran out and didn't even feel it necessary to come back or communicate in any way would be hard, but if Miyagi had no idea that he had a son it could foster a great deal of resentment and in turn poison that child if they were to find out. Chozen was aggressive from the first moment that we saw him in the second movie, even if he hid it well to make it appear as though he was pleased to see Miyagi. But there's just one wrinkle in this whole thing that might unravel the theory before it really gains traction. Miyagi left Okinawa when he was still a young man, and in the second Karate Kid movie, it was revealed that he had left well over four decades before. That would mean that at some time he either went back, or someone came to him from Okinawa, and that's a giant mess that any director would likely steer away from. Maybe a director will try to retcon this and convince people that it didn't happen, but otherwise, Chozen would be way too young during the second Karate Kid movie to be Miyagi's son. But it's a tempting theory, isn't it?