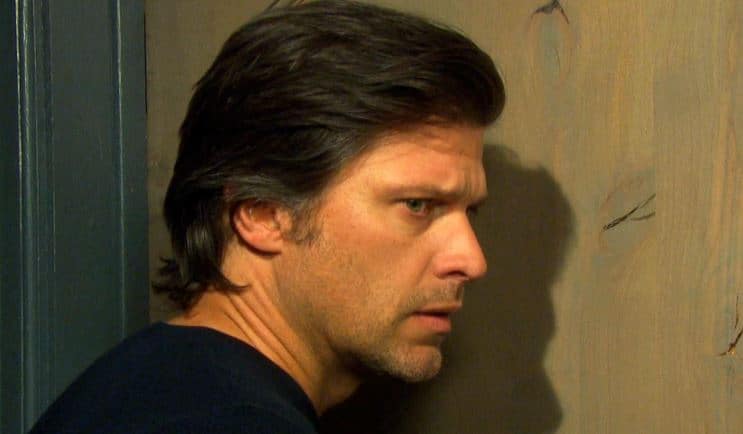 Days of Our Lives fans are rounding out this week with a big episode, but not until we take a few moments to discuss what's already happened this week. It's been interesting, to say the least. Yesterday was the second to last day of the week, and it brought with it some serious drama and some bad attitudes. For one, we saw that Xander had some very interesting news to share. He's got a partner with all his madness and criminal activity, and he shared a secret that might just shock them all. This will undoubtedly lead to some seriously bad moments with some people around here, and we think that it will not get better for him or anyone who is in his path. He's a bad man, and he is not someone who worries too much about how he makes other people feel. He's good where he is.
Kristen is still working on believing what Brady says to her. She's acting like she doesn't believe him, but she wants to so badly that she's willing to put her sense to the side. Not that we think she has any sense at this point, but she's falling for everything he is putting down for her. She's also working to handle a patient who might have some issues, but we will discuss that later this week. Brady's plan for her is all but falling right into place, and she has no idea that it will work out like this for her. She's not a simple girl, but she's so in love with him that she cannot seem to make sense of anything that's right in front of her face. She will let this be her downfall, which is one of those things that doesn't bode well for her future plans — or Brady at this point.
What's Happening on Days of Our Lives
Our deepest sympathy to the friends and family of Peggy McCay, our dear Caroline Brady for more than three decades. https://t.co/QVwV5Roth3

— Days of our Lives (@nbcdays) October 10, 2018
Our hearts and our thoughts go out to her family and her friends in this difficult time. She was an extraordinary actress with incredible skill and talent, and the passing of this beautiful life is difficult. We are always thinking of her and the joy she brought to everyone she came into contact with.
What's Next on Days of Our Lives
Eric lost Nicole once, and he's not going to lose her again — regardless of what Xander has done. What Days of our Lives, weekdays on NBC. pic.twitter.com/VOqNOsJQqW

— Days of our Lives (@nbcdays) October 5, 2018
We all know that Kristen is totally crazy, but here she is today working with a patient that seems to be a mystery to everyone. No one knows who this person is, and what they want, or what they are working with, but they do seem to have some issues that they cannot handle in their situations. She's a nut job, but she's managed to get an actual job despite the fact that there is that small moment when she tried to kill Marlena, but apparently someone missed that one on her resume. Either way, she's working with a new mystery patient, and we hear that this is a situation that might turn into something else. We hear that this patient will show up rather unexpectedly today without much fanfare. However, it won't be long before that patient is talking — and using familiar names.
And things will turn out to be very interesting when this happens. We can't help but wonder if that patient is related to or is probably EJ DiMera. We know that things aren't going to stop with his story line now that Sami is back in town and wanting to figure out what happened. She's convinced that he is alive and well, and that all things are for the better. But we don't know that this is true or not. We just know that sometimes things are interesting, and sometimes they are a little bit of a mess in terms of what's happening in life. We just know that this might be something that does work well for whatever story line is being created next. It could be good stuff.
Stay tuned for more Days of Our Lives and be sure to check out TVOvermind daily for the latest Days of Our Lives spoilers, news, and updates.