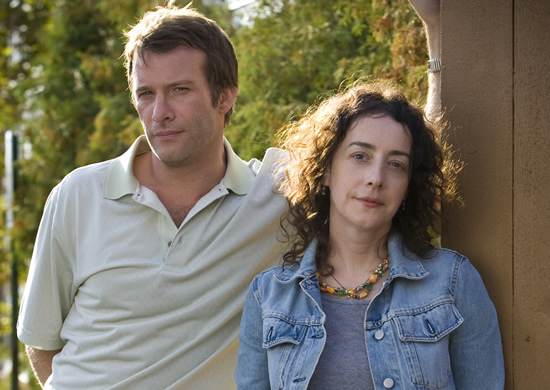 Ray and Tanya have almost an inverse relationship, even though they work together. When things look better for Ray, they look worse for Tanya. That's a fault on both of their parts, however, and only grew worse, after this week's episode, entitled "Doris Is Dead or Are We Rich or Are We Poor?"
At the beginning of the episode, Ray meets Jemma, his hard-to-please client from last week, outside a therapists office. The therapist (played by Eric Avari, Chandra Suresh from Heroes), is clueless that Ray is a prostitute. Jemma screams at Ray during the session, and he is forced to improvise, telling her that something about her is a turn-off. Jemma storms out, leaving Ray and the therapist sitting there, shocked.
Ray follows Jemma outside, where she is waiting for him. She pays him $500, thanks him, and walks away. Ray, having been on his lunch break, returns to the school, where he meets Tanya in the hallway. Tanya is angry to find out that Jemma was circumventing her in order to get to Ray, but Ray calms her down and promises that he'll tell her to go through Tanya next time.
Tanya simply can't wait, however, and confronts Jemma while Jemma is working, telling her the "regulations" of her agency, but Jemma ignores Tanya, and an angry Tanya "fires" Jemma as a client.
In a subplot, Jessica and her mother are struggling to find out whether or not Ronnie is as poor as he claims. They raid through poor Ronnie's office, until they find out that he has long over $800,000 in the stock market.
Meanwhile, Damon and Darby are at Ray's house shopping for cars. Darby is indifferent with the selection, instead choosing to talk to her boyfriend, but Damon doesn't like the poor quality and amount of miles on each of the cars he's seeing. Tanya suddenly walks in, and there's a funny awkward moment as she realizes that Damon is Ray's son, though he looks like he'd be more fitted as Jemaine Clement's son. She introduces herself, but asks to speak to Ray privately, where she reveals that she has fired Jemma as a client. Ray, who has been falling in love with Jemma, reacts angrily, telling Tanya to rehire her. A hurt Tanya returns home, and leaves a message on Jemma's answering machine.
Jemma and Ray later meet for a meal at a restaurant, and Jemma mocks Tanya's incessant need for control. She then begins pushing for details about Ray's personal life, beginning with his first name, and then she moves on to where he works, when he reveals that he's a high school basketball coach. She expresses interest in attending one of his games.
Tanya, who has ever-obvious feelings for Ray, decides to forgo her movie night and go to Ray's basketball game, in which his team is losing horrible as part of a long losing streak. Tanya meets Damon again, and is introduced to Darby and Jessica, who are attending the game as well. There is an awkward moment, and Damon tells Tanya that she can sit nearby.
Tanya and Jessica actually start to hit it off a bit, but Tanya avoids questions about her and Ray's relationship, leaving it at "it's complicated." Ray, meanwhile, is growing aloof from the rest of his team, who are having a horrible night.
That is, until Jemma shows up.
Reinvigorated by Jemma's appearance, Ray feels a testosterone-filled need to impress her, and gives a motivational speech to his team, who come back and win the game over their opponents. In the celebration, Ray walks over to the stands and kisses Jemma, to the astonishment of his family and Tanya. Ray and Jemma meet after the game, and escape into the night, ending the episode.
Tell us what's wrong with this post? How could we improve it? :)
Let us improve this post!