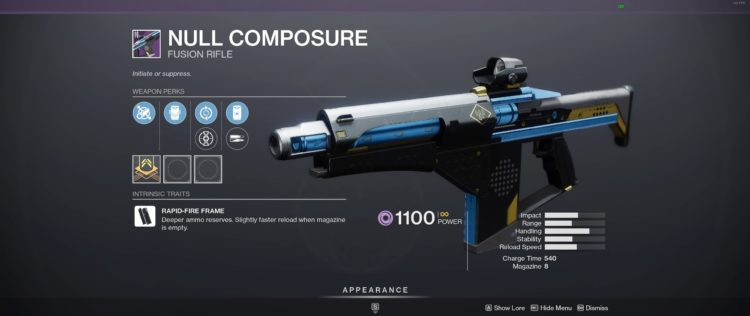 The Null Composure is a brand new Seasonal Ritual weapon in Destiny 2 that made its way into the game with Season of the Splicer. Null Composure is a quest-based weapon that requires you to complete a few objectives before you can actually get your hands on it, and while these objectives aren't terribly difficult, it will be very time consuming, so be prepared to either spend a ton of time grinding some Gambit for a few hours in one sitting, or maybe just sit back and complete some activities throughout the season to get your hands on the brand new Fusion Rifle. So, what do you need to do to get your hands on the Null Composure Legendary Fusion Rifle in Destiny 2?
A Sacred Fusion
In order to start your quest to obtain the Null Composure Fusion Rifle, you'll need to first load into the game and go to the Tower. From there, you should speak to Banshee-44 who will offer you a quest titled "A Sacred Fusion." This is the quest that will ultimately reward you with the Null Composure. The quest requires you to earn 8,500 total points by defeating targets in playlist activities (8,500 sounds like a lot, but keep in mind you do have the entire season to complete this quest!) You can also earn bonus progress for defeating targets with Fusion Rifles, disintegrations, or Solar damage in the Crucible, Gambit, or strike playlists. I'm still a bit confused as to why bonus progress requires Solar kills, given that the Null Composure is actually a Void Fusion Rifle, but that's beside the point. Unfortunately, there's also another way to earn additional progress, but while it isn't particularly unfortunate for the person completing the quest, it states that "Additional progress for defeating targets with a Stasis subclass equipped" meaning that if you're trying to play Crucible and everyone else is trying to get this quest done…you're going to have a pretty bad time. The other objective for this quest step is to complete 100 activities, where playlist activities also grant more progress. My suggestion is to absolutely run playlist activities for this entire thing, specifically Gambit (I know, I know, I'm sorry, but Gambit is actually in a good place right now!) Playlist activities look like they grant about 3-5 points, with Gambit wins counting for about 5% progress, so that seems to be the fastest way to complete this step. If you're not really worried about completing it as fast as you can, then I would definitely suggest farming some Nightfalls for some god roll exclusive weapons. After you finish both of these objectives, you'll be prompted to return to Banshee-44 who will then grant you the Null Composure Fusion Rifle.
Null Composure Ornaments
Now, with the last couple of Ritual weapons we've had in Destiny 2, there's been a main quest and a few additional optional objectives that reward activity-based ornaments. So, how do you go about getting each of these ornaments for the Null Composure Fusion Rifle in Destiny 2?
Vanguard Vestments
The Vanguard ornament for the Null Composure is called "Coordinated Offensive" and it's actually pretty easy to obtain. All you have to do is head over to Zavala to pick up the quest, which wants you to complete 3 Nightfall strikes and then eliminate 250 combatants with Fusion Rifles and Solar weapons. Yep, that's it. The nice thing about this is that you can get three objectives done in one go, because you can realistically get 250 Solar kills in 3 different Nightfalls, and you can farm for some Nightfall exclusive weapons at the same time. You can also get bonus progress while you're playing with clanmates. After you complete these objectives, head back over to Zavala and claim your new ornament!
The Red Hat
The Crucible ornament for the Null Composure is called "Inferno Heraldry" (fantastic name, Bungie!) and it is a bit tougher to get your hands on than the Vanguard ornament. This requires you to defeat 100 Guardians with Fusion Rifles or Solar damage and earn 3 Valor ranks. Between Iron Banner and Trials, earning those Valor ranks probably won't be all that difficult, and you can get those 100 Guardian kills in a few matches as well (depending on how those matches go, of course.) After you complete these objectives, head back to Lord Shaxx and claim your Crucible ornament!
Primeval Patina
The final and most difficult ornament (as of now) to obtain is through Gambit and it's called "Smith's Touchmark." Why is this the most difficult one to get right now? Well, you have to get 250,000 kills with Fusion Rifles or Solar damage. Luckily, Bungie has confirmed that this is a bug and is actually only supposed to be (probably) 2,500 kills, so I would definitely hold off on completing this until that's fixed. The other objective is just to complete 7 Gambit matches – much simpler. After you complete these objectives, head back to Drifter and claim your final Null Composure ornament!
That's how you get your hands on everything you need for the Null Composure Fusion Rifle! Hit me up on Twitter (@bestad391) with your new Fusion and let me know how you like it!