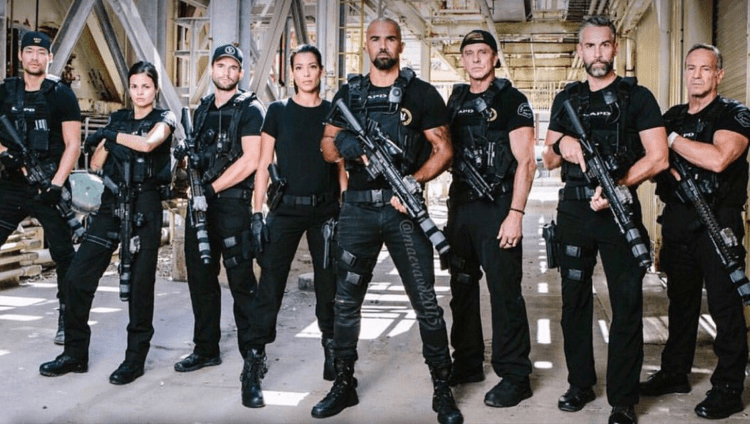 "S.W.A.T." is an American crime drama television show adapted from the 1975 series with a similar title. The 1975 series was created and developed by Robert Hamner and Rick Husky, whereas Aaron Rahsaan Thomas and Shawn Ryan created the modern one. Three companies, namely; CBS TV Studios, Original Films, and Sony Pictures Television, are its producers. The series is currently showing its third season, and it premiered on C.B.S. on November 2nd, 2017. Its storyline revolves around Sergeant Daniel "Hondo" Harrelson, a former marine. His role is to gather a group of elite officers and lead them in taking care of Los Angeles' most threatening crimes. Hondo is a Los Angeles native who was born and raised in the city; he has a connection with L.A. people and is loyal to his fellow officers. He plays a crucial role in reducing the relationship gap between the L.A. people and the police force, making him the best qualified to lead the S.W.A.T. team. The Daytime Emmy Award winner Shemar Moore plays his character. According to E.T. Live, the series is progressing positively as its storyline and characters address critical societal issues that Los Angeles faces daily. Let's check out some of the changes it has undergone since its first season.
Season three is helping football stars make their acting debut
Many shows introduce guest actors in between episodes to spice up the plot. "S.W.A.T" went a mile further to cast three former football players. Its season three, which premiered in February 2019, came with a new set of non-acting actors. The show introduced three former National Football League (N.F.L.) superstars who make their acting debut by playing various roles in the series. The two times SuperBowl champion James Harrison plays Marcus, Erick Dickson acts as Fire Chief Brinkley, and Willie McGinest casts as Ryan Cook. The show's producer had an easy time working with James Harrison because he was flexible and calm. Only a few producers would cast former players in a serious show that is about the S.W.A.T. team. C.B.S. casting them reflects S.W.A.T's progress while proving its cast members are versatile.
Addressing global crime issues
Its first episode of season 2 is called 'Shaky Town.' It portrays the S.W.A.T team in a rescue operation whose aim is also to take down the human traffickers involved. The mission comes to a standstill when a sudden earthquake strikes Los Angeles and disrupts the standoff between the officers and the human-trafficking cartel. The impunity can be defined as compelling, convincing, or forcing people and transporting them to be used or into working against their will. It is a massive problem that even developed countries are struggling to tackle due to the complexity of tracking inter-country human smugglers. The first season of the show addressed local robbery gangs in several episodes. They are also crucial societal matters but not global emergencies because authorities can contain them locally. In the second season, however, the show reinforces its style of tackling crime matters and illuminates the issue of human trafficking, a local and a global problem. Transnational Organized Crime (TOG) referred to human smuggling as a serious problem. TOG also cites that human smuggling issues are affecting the existence of millions of individuals every year. "S.W.A.T" is showing its maturity in its storyline, which has developed significantly to incorporate episodes that resonate with the global issues.
Representation of the sexual and gender minorities
In season two, episode 16, Hondo's team is busy with protecting the L.G.B.T.Q. members who are gathering in an event in the city. The gathering brings together street chief Hicks and his son, who has a troubled relationship with J.P. J.P, an ex-drug addict, is currently a pioneer of the L.G.B.T.Q community and values. In countries such as Iraq, Syria, and Libya, there have been reports of men being prosecuted brutally for being gay. In 2014, a video of the Islamic State fighters stoning a 20-year-old boy to death for engaging in 'gay activities' surfaced on the internet. In 2016, 50 people lost their lives in the U.S. In the U.S. and other countries, the L.G.B.T.Q. community is facing extreme stigmatization and even possible punishment for being gay. It is encouraging its viewers to accept the L.G.B.T.Q community and show each other love. It is also showing its boldness and stance in societal issues.
Protecting civil rights
Episode 21 of the second season shows the elite officers in operation to try and eliminate a Los Angeles most wanted gangster. During the raid, they kill a civilian, creating a lot of problems for themselves from their superiors. Their superiors question their decisions, and they investigate the whole squad for misconduct. It narrates to people that even police officers should be accountable for their actions and be held liable for any wrongdoing. S.W.A.T uses itself as an example to show that anyone can commit crimes and because no one is above the law; everyone should be responsible for their actions.
It continues to insist on the importance of good neighborhood
It worth noting that the show is an action drama whose primary purpose is to show thrilling events that occur during the various operations carried out by the "S.W.A.T" team. In season one, episode five, the neighbors are not forthcoming to help solve the break-ins despite knowing that it is a prevalent issue. It has, however, progressed to incorporate the aspect of maintaining good relationships with people in our surroundings and caring for our neighbors. In episode 19 of season two, two members of the S.W.A.T. discover that their neighbor is missing and act swiftly to find him. The whole crew is called in, and after thorough investigations, they realize he was abducted for being an onlooker in a kidnapping executed by fake Immigration and Customs Enforcement officers. The team later manages to rescue their neighbors from the kidnappers. It is shedding light on the need for people to look out for one another.
Tell us what's wrong with this post? How could we improve it? :)
Let us improve this post!