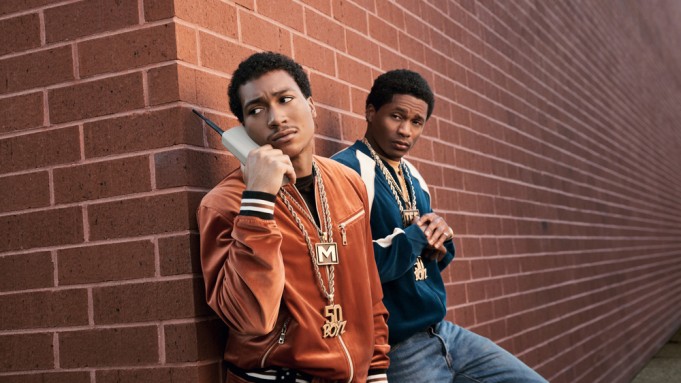 Last week on Starz BMF Season 1, Episode 1 we get a glimpse of Meech and Terry's family life and the dynamics of their operation. This brother duo is the perfect team. Whereas Meech is the visionary, the overly ambitious Terry is the brains. Tragedy strikes when Terry is shot in the face outside of his girlfriend's house. Unbeknownst to the Flenory boys, they have another enemy lurking in the shadows determined to take their spot.
Someone Has To Pay
Episode 2 opens with Meech driving to the hospital like a maniac with an uzi on his lap, desperate to see his brother and make sure that he's alright. When Meech arrives at the hospital, his gun is confiscated by Detective Bryant and he lets him know that he tells Meech that he believes it was a carjacking. Yet, Meech knows better and so does his family because when they arrive Lucille (his mom) immediately berates him and warns him that the attack better not be behind his "drug dealing mess". His dad fears that ultimately the rest of the family could get hurt because of Terry's illegal activities. Meech his determined to find out who shot his brother. At first he suspects a guy that confronted Tee at Pat's party in the previous episode. He pistol whips the guy but then finds out that he didn't shoot Terry.
Terry Is Alive
It's not everyday that someone actually survives a gunshot to the head. You can see the bullet protruding from Terry's eye which make Meech even more angry and it scares their family. He does struggle with some complications and the doctor says that he may lose his vision in that eye. Terry tries to leave the hospital but he ends up falling and passing out in the hallway. He doesn't want Meech out there in the streets by himself trying to find who shot him.
Stash House Is Compromised
It seems like everything is falling a part around Meech. The stash house gets broken into by a fiend and the 50 gang is forced to find a new place to hold their product. These are problems that could have been prevented if Meech knew how to be firmer. Sometimes in this line of world having people fear you would prevent.
Rumors
Meech finds out that his little sister has been hanging out on the other side of town in enemy territory. He goes to pick up sister and is met with hostility. She's tired of keeping Terry and Meech's about Terry actually being involved in the street business. Meech gives her hug, tells her he loves her and gives her more money. Lamar decides to take the 12th Street Crew on their offer and Jamie-O the leader has him work with Slick on small tasks until he puts in enough work and he's able to trust him. What Jamie-O doesn't know is that Slick and Lamar already know each other. In fact, Slick used to work for Lamar until he got busted and Slick was forced to join Jamie-O's crew.
Together Slick and Lamar conspire with to spread a rumor that Jamie O shot Terry to start a war between the 12th Street Crew and the 50 Boyz which is all part of his grand plan to take back his blocks. B-Mickie hears the rumor and relays this information to Meech.
Meech Has A Decision To Make
From the beginning, Meech was hesitant to go to war with Jamie O. When he hears that the rival drug dealer ordered the hit in Terry he wants to handle things differently and doesn't want a pointless war between the two crews. B-Mickie let's him k is that if he doesn't handle things the right way he would be perceived as weak. Meech goes to speak with Jamie -O's second in command Filmel. Meech offers him an enormous amount of money to flip but he remains loyal.
B-Mickie Gets Out Of Line
B-Mickie doesn't agree with how Meech is handling the situation. He asks Meech why he hasn't killed Jamie-O and Meech has to remind him that he's the one in charge. Detective Bryant pulls up with Jamie-O gagged and bound in the back. Detective Bryant tells Meech to just ruffle his feathers. Meech pistol whips Jamie -O as he pleads for his life and claims that he had nothing to do with shooting Terry. B-Mickie comes up and shoots Jamie-O in the head. Meech is upset but B-Mickie assured him that he will makes sure that he is credited for the hit completely missing the point. It's clear that B-Mickie doesn't have enough respect for Meech as his boss. Meech needs to put him in his place because he can end up becoming very dangerous.
Tell us what's wrong with this post? How could we improve it? :)
Let us improve this post!