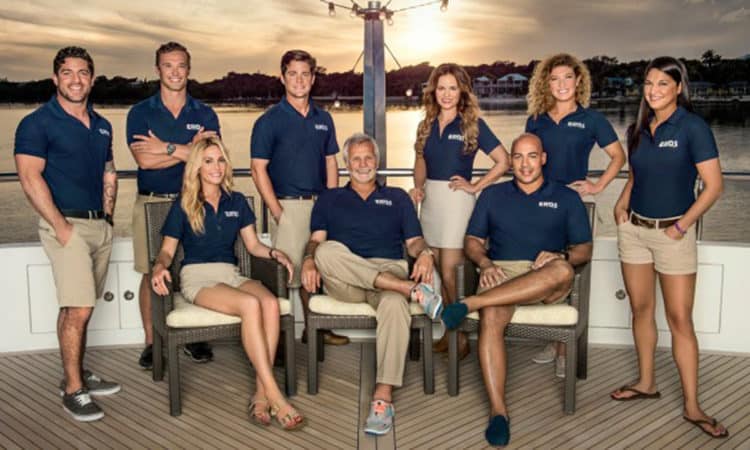 For almost 10 years, Below Deck has been a fixture on Bravo. The series has introduced viewers to what it's like to sale across the ocean on a beautiful yacht. It's also managed to incorporate the perfect amount of drama. Below Deck has been so successful that it's even spawned two spin-offs: Below Deck Mediterranean and Below Deck Sailing Yacht. But after years of success the series (and the rest of the world) found itself in rocky waters in 2020. To put it simply, Below Deck just didn't hit the way it used to, and it left a lot of people talking. What about the show didn't meet viewers' expectations? Keep reading to find out how 2020 almost sank the Below Deck franchise.
Why 2020 Was A Tough Year For Below Deck
Let's face it, 2020 was one of the most difficult years many of us have seen in a while. Not only did this present some challenges when it came to filming Below Deck, but it also changed the quality of the content. On top of that, season 8 marked the first time Kate Chastain wasn't a cast member since joining the series for season two. Her departure alone made a lot of people skeptical about how the show would be. That coupled with COVID-19 restrictions proved to be very hard on the show.
COVID-19
The coronavirus wreaked havoc on the world more quickly than anyone could have imagined. In just a few months, things all over the world were shut down which also included productions. Below Deck Captain Lee Rosbach told E Online that he was actually out at sea when he found out about the virus. Although he believes that the yacht industry is well-equipped to handle COVID, that didn't appear to be the case.
Many viewers felt like COVID restrictions surrounding filming forced production to use old footage they already had. This, of course, resulted in much of the content feeling boring. According to an article from Champagne and Shade, "The lack of footage along with a lack of drama might have set this season up for a bit of a snooze…This show is all about the drama, and perhaps there just wasn't a lot of drama to go around this season. That's a good thing for Captain Lee and Eddie, but a bad thing for all of the drama llamas that love the drama!" Needless to say, a lack of drama can quickly become the kiss of death for a reality TV show.
Additionally, many viewers turned to their favorite shows as a way to help them lighten the mood during the pandemic. If nothing else, Below Deck is something lighthearted that people can enjoy to take their mind off of other things. However, since the show didn't live up to its usual standard, many of those viewers walked away feeling disappointed.
Lea Palmieri, an author for Decider wrote:
"In a year where so much felt depressing and disastrous, it was a bummer to realize that included most forms of Below Deck, too. This is not a show that should ever be stressful, it should be (almost) as much fun as the charter guests are having drinking and partying in the middle of a bright blue ocean…we count on this show to entertain us, to delight us, to cheer us up. And when it doesn't, well it feels like being handed a super-thin tip envelope, is all."
Based on what other people have said about the show, Lea certainly isn't the only person who feels this way.
The Future of Below Deck
Things may not have looked good for Below Deck in 2020, but that doesn't mean the show can't bounce back. Hopefully, improvements regarding COVID will also result in improved content although only time will tell. Most importantly, season 8 has proven to be a wake up call. Just because Below Deck is extremely popular doesn't mean it can't suffer from a bad season just like anyone else.
On the bright side though, viewers have no plans to give up on the show any time soon. The show hasn't officially been renewed for a ninth season yet, but everyone is hopeful. After all, one shaky season –especially in the middle of a pandemic– isn't likely to end the show.
At the end of the day, people are still looking forward to the next season. Of course, they are hoping that there will be plenty of drama to make up for what season 8 was missing. Since producers aren't going to want another repeat of season 8, they will definitely make sure there's no shortage of excitement.
Tell us what's wrong with this post? How could we improve it? :)
Let us improve this post!