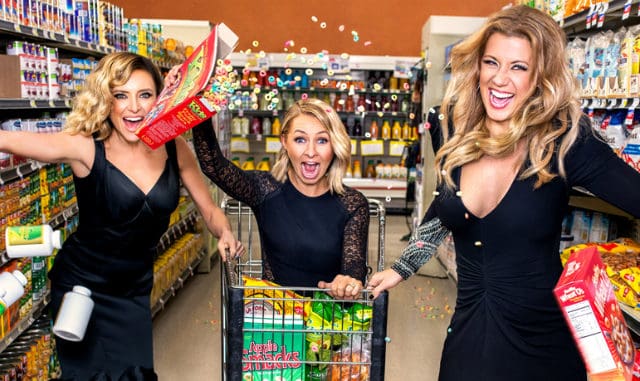 Hollywood Darlings season 2 is taking the POP network's breakout show to a whole new level. Don't worry, it still stars the 90's sitcom child stars Jodie Sweetin (Full House), Beverley Mitchell (Seventh Heaven) and Christine Lakin (Step by Step). The three women play exaggerated versions of themselves, the key word being, "play." As the Hollywood Darlings cast explains, doing a show with women running things in front of and behind the camera has some advantages!
Women Get Shows Done: The stars of #HollywoodDarlings discuss their female-driven crew and creative team. pic.twitter.com/OkazHUA46t

— Hollywood Darlings (@HWoodDarlings) March 9, 2018
While the three stars had been co-executive producers for season 1, for Hollywood Darlings season 2 they are all executive producers. That behind-the-camera influx of "killer women" Sweetin speaks of also came in the form of director & executive producer Sammi Cohen, and co-executive producer Kourtney Gleason.
Gleason's father is the late Michael Gleason – the creator of the 1980's hit Remington Steele. I recently got a chance to chat with her about few different things – including her take on what's new for season 2 of Hollywood Darlings. Here's one interesting tidbit.
Each episode is independent of the next. It's a lot more stylized. We've taken it down a narrative road. Last year was kind of like, a faux reality show. a fake reality show. It (season 2) reads as a scripted comedy.
Now, Sweetin, Mitchell, and Lakin have always been upfront that what was happening on-screen was not reality, but improv sketches featuring caricatures of themselves. Still, the first season of Hollywood Darlings did have that reality TV feel to it. Hollywood Darlings season 2 sounds more like a 90's sitcom that's all grown up – just like its stars.
Hollywood Darlings Season 2 Promo
In the upcoming interview with Gleason, there's more about the show's new season. In the meantime, here's a taste of what you can expect from Hollywood Darlings season 2. It starts airing on the Pop network on Wednesday, April 18 at 8 pm ET!
Tell us what's wrong with this post? How could we improve it? :)
Let us improve this post!