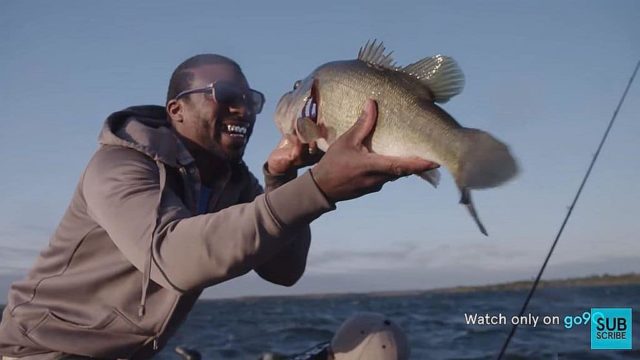 Hip-hop musician Carnell Lee has a passion aside from is music. We're about to find out all about it in his new series called "Breaking Bass." Lee is joined by Oliver Ngy, the fishing movement founder and yes, it is very much as it sounds. It deals with taking up the rod and casting a line in the water. What can possibly happen when you have two friends who live in different parts of the United States, and they decide to go fishing? Add a powerboat, a couple of fishing rods and send them off to have some fun. This new show is going to be something different than what we're used to with regards to reality TV, but you need to give it a chance, because it has all of the earmarks of being a it.
The cast
Oliver Ngy and Carnell Lee are about as different as two men can be, but they're coming together in the new series that is meant to inspire thought while bringing entertainment. The two will travel throughout the country together. On their journey, they will meet a variety of angler brothers as they fish the waters of America. Ngy has made his career out of angling. He's promoted fishing videos which have gone viral on the internet. He's well known and respected by anglers throughout the country. Carnell Lee, also known as Dimension, is a native of Southern California and a musician. While living in the state of Oklahoma, he discovered the art of fishing and grew to love the sport.
What the show is about
Ngy and Lee are both on a mission. That is to land the biggest fish and to show the world that fishing is an amazing sport. They're all about finding new places to fish and meeting new and interesting people along the way. It's a reality show so we imagine that we're going along for one wild ride. The show has paired two very unlikely buddies together and it is very much about breaking stereotypes. Lee doesn't look like the kind of guy that would enjoy fishing, but the truth of the matter is that he loves the sport. They focus on catching big mouth bass. The show will teach men and women who are new to the sport the methods and techniques for luring and catching them. Lee and Ngy will cross state lines on their adventures and take us with them as we learn more about fishing for bass and enjoy the fun that they conjure along with way.
Where it will air
"Breaking Bass" is available on Complex and go90.com. This is a free digital platform that is available on iOs and Android from the web. It is a part of the Verizon corporation and it can be downloaded on any smartphone through Google Play or on the App Store. The series is set for an eight week run and will air on Tuesdays and Thursdays. This is one series that you won't want to miss, especially if you're into bass fishing, hip-hop, or both.