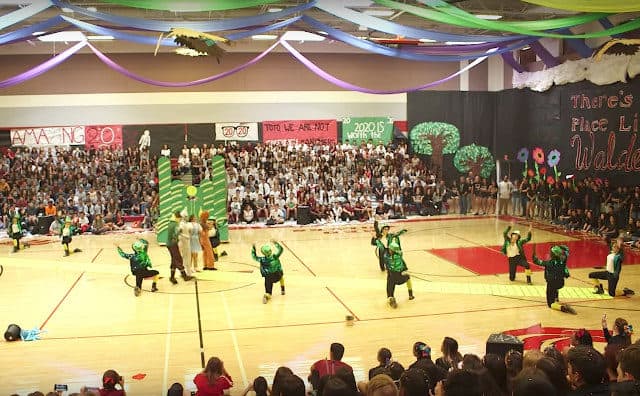 Is is just me or are high school presentations starting to look like professionally-done productions? Well, at least if they were done on a less than shoestring budget and with less than adequate cinematography. But really, watching these clips I am seriously impressed by watching these two clips at the level of skill that's been displayed. I don't know what high school this was but this is one heck of a homecoming routine. I think all we ever did at mine was watch the cheerleaders perform a new routine and do something to prank the football team. It was fun though.
Here's the Wizard of Oz routine
I like this. While I'm not the biggest fan that The Wizard of Oz ever had I do like the story and find this to be very amazing what's been done with the whole routine. Obviously it's got to introduce just the most key characters and get through the bit quickly but they do it in such a way that you can't help but smile as you hear the intro song to each character and watch the incredibly synchronized moves that are executed perfectly. I'm serious now, these really look like they could be taken to another level with special effects and made into something unique and altogether awesome. The routine is really that great and the dancers seem to be having a lot of fun with it. This is an elaborate homecoming, and the students did awesome. I have to admit that when I heard a few of the songs come on I was laughing with good humor since they each fit so well.
Roar for the Cowardly Lion was awesome, as was Walk It Out for the yellow brick road scene. Insane In The Brain was awesome to hear and so was Bad Blood for the wicked witch. Hats off to this bunch for making it such an enjoyable sight.
Here's the Pixar Routine
I'll admit first and foremost that this one didn't seem as organized until all the characters were out. Even then it wasn't quite the same thing since they all have different story line and in comparison to the Wizard of Oz they kind of don't mesh as well. But the routine is still great since they coordinate perfectly and don't miss a beat as the entire thing becomes about the Toy Story aspect. They even drop to the floor when Andy comes on the scene and then recover when he leaves. That's just awesome and more to the point the issue between Buzz and Woody kind of takes center stage not long after the triangle between Bo Peep, Woody, and Jesse finally culminates.
This one didn't have quite as many pop references in it but it was also a vastly different theme and as such kind of stuck to the kind of music you'd find in a Pixar film, which was great. Overall it was just as good and well performed as the first clip. Whatever they're doing at this school they're doing it right.