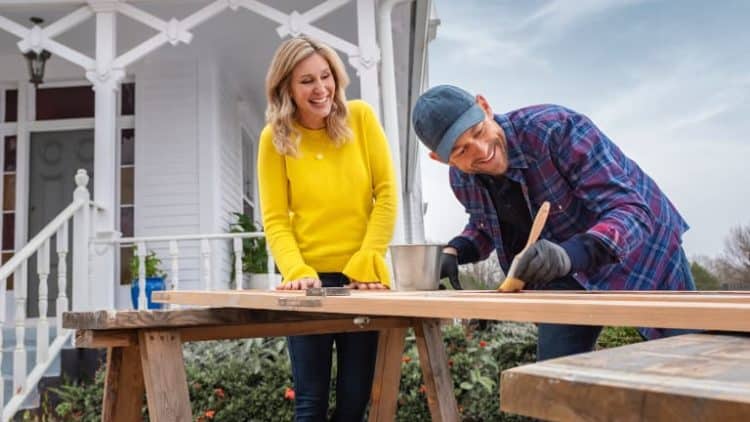 The last few years have been somewhat of a whirlwind for Dave Marrs and his wife, Jenny. In 2019, the dynamic duo became the stars of their own HGTV series Fixer to Fabulous and they have since become fan favorites. Their passion and expertise building and home design certainly hasn't gone unnoticed and their work truly speaks for itself. Although their work is the main focus on the show, many people have also taken an interest in them on a personal level. On of the things about Dave that has become especially interesting to viewers is a tattoo. Located on his arm, the tattoo is a series of Hebrew letters. Several people have expressed interest in knowing what it means, but it's always remained somewhat of a mystery. Now, it's time to crack the code Here's what Dave Marrs' Tattoo Means.
Dave's Backstory
Dave probably never set out to become a reality TV star, but things usually have a funny way of working out. Plus, when you're as good at what you do at Dave is, the opportunities always find a way to come pouring in. That said, Dave is truly an expert in his field.
Even before he and Jenny landed their own show, he had a great reputation for his work as a builder. According to the bio on his business website, "Dave is an expert craftsman, builder and general contractor. His knowledge of restoring old homes is unsurpassed and his passion for bringing the unique qualities of historic homes back to life is contagious. His work includes custom new homes, restoring historic homes, renovating spaces, as well as building unique and gorgeous custom furniture pieces. He mills his own lumber and partners with local artisans to ensure each Marrs Developing home is built with the utmost quality, care and integrity.
Outside of his work though, Dave's journey has been equally as interesting. He is originally from Colorado and met Jenny while the two were in college. In addition to their love of home building and design, the two also bonded over shared family and religious values. They now have five children together and they love spending as much family time as they can. When they aren't busy working on projects for their show, they are working on the family blueberry farm which they started "to provide an educational and skills opportunity for orphaned and at-risk teenage boys in Marondera, Zimbabwe." Dave and Jenny have also partnered with other charitable organizations.
The Truth About The Tattoo
Tattoos have become more and more common and much of the stigma associated with them has started to fade. Still, however, Dave and Jenny are somewhat conservative people so the fact that Dave even has a tattoo is something that really stuck out to many fans. Plus, it's fairly common for people to wonder about the meaning behind other people's tattoos.
Despite all the questions surrounding Dave's tattoo, he has never publicly opened up about its meaning. In an old tweet, however, Jenny explained that it simply means "My Deliverer" in Hebrew. The fact that the tweet was published in 2017 shows that questions about Dave's tattoo are nothing new.
Those who have been following Dave and Jenny pretty closely will likely already know how important their faith is to them. The phrase comes from the Bible verse Psalm 18:2 which reads in its entirety: "The LORD is my rock, my fortress and my deliverer; my God is my rock, in whom I take refuge, my shield and the horn of my salvation, my stronghold." As far as we know, this is the only tattoo that Dave has. Maybe one day we'll get more of a story from Dave about what inspired him to get the tattoo. It'll also be interesting to know why he chose to have the tattoo written in Hebrew instead of English. There is no evidence to suggest that Dave speaks Hebrew.
The Future Of Fixer To Fabulous
After two successful seasons, Fixer to Fabulous has become very popular and viewers have come to look forward to the different projects that Dave and Jenny work on. Unfortunately, there's still no official word on when or if a third season of the show will air. Like almost every other show in the industry, there's a good chance the COVID-19 pandemic impacted production which likely resulted in delays. With that being said, there's no reason to think that the show won't be brought back for a third season. Fans love Dave and Jenny and their popularity is only going to continue to grow.