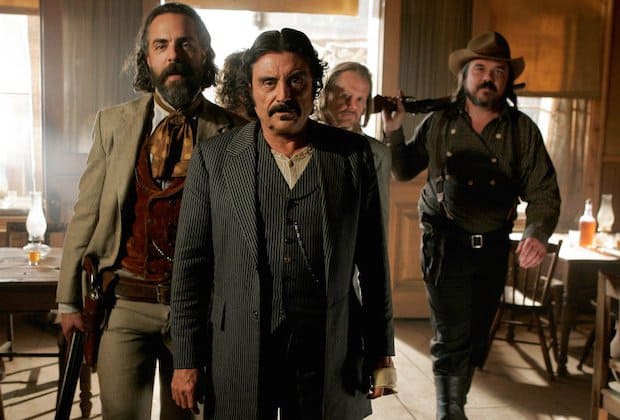 Deadwood could be seeing a revival since a script has been written and by 2018 production should be starting. That's not too far off really when you think about it considering that we're now rounding halfway through November of 2017. HBO is planning on bringing back a fan favorite and a popular western show that managed to gain an impressive fan base during it's time on the network. The show garnered huge support throughout its run and was heavily lamented when it wasn't picked up for another season, but fans are going to be in luck as the HBO movie should be able to draw back most if not all of the popular characters and deliver a healthy one-two punch of entertainment that should satisfy even the most devoted fan.
As far as western shows go Deadwood was perhaps one of the most coarse and savagely blunt programs out there. It's repeated use of profanity was one thing that was easily noted and the racial epithets that are evident throughout the show are something that only HBO and the movies could possibly get away with. While some people feel it wasn't needed it definitely gives a more raw and exposed edge to the series and reminds people that the time period in which it was set was not always a kind and peaceful era.
Added onto that was the pleasure of seeing some of the most famous personalities the wild west had to offer in that time, such as Wyatt Earp, Calamity Jane, George Hearst, and several others. It wasn't so much a show in which these characters were anything that special, but instead contributed to the whole picture instead of taking up more than their fair share of the historical period. Deadwood as a movie might just work since it could possibly focus upon a single problem within the town and carry along a good number of subplots so long as they don't seek to eclipse the main point.
The main point is that the movie is supposed to be happening, and the only thing that could derail it at this point would be if HBO decides to find an issue with it somewhere along the line. Things can happen after all, but most fans are likely hoping that they don't. Most people would like to see this show come back even if it is just for a movie and nothing else. It would at least be another look at a favorite story that could possibly find a type of conclusion that would work for most people.
As much fiction is already in the show however it would probably be best if there were no real changes to the overall formula of the show, at least no huge, fundamental changes that is. Obviously a few things might have to change and a small number of plot points might have to be sacrificed or pushed far to the back of the film, but overall it should be able to be filmed as a movie that will have people anxious to watch it.