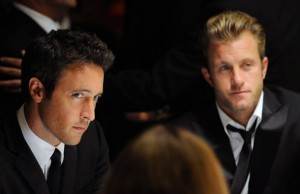 Apparently, it was mafia night on TV. While its competitor Chase was dealing with an ex-mobster, Hawaiii Five-O brought us a yarn about Samoan gangs and their connection to a mainland mob that ruined a perfectly good football game. For shame.
After last week's family bonding, the team is closer than ever before and ready to handle whatever can be thrown their way. They're all enjoying themselves at said football game (and in Danny's case, arguing that tennis is not a sport), which puts them right there when guys start shooting. While Danny's ex uses this as another reason why he sucks as a father, the others deduce that it could be a gang war between Triads and Samoans. Triads have been being knocked off by the Samoans of recent and that's a pretty big beef, but then there's something else about gambling behind the scenes. Not to mention that Chin Ho and Kono's cousin Sid, who's an undercover cop and who doesn't like Chin Ho very much, is involved too. Awkward!
The chief highlight of this episode is that Steve, Danny and Kono get to go undercover in order to suss out this new gambling arrangement, so we get to see them dressed up and Steve at the wheel of one expensive car. However, this joy is short-lived as they're made within minutes, blowing Sid's cover with them. Who better to come to his ungrateful cousin's rescue than Chin Ho? With a shotgun? That's the cool end to an interesting poolside shootout. There's even somewhat of a happy ending when Danny's ex-wife decides not to take him back to court over his meager visitation rights, possibly because McGarrett had the Governor put the squeeze on. We even get a peek at how the squad itself gets its name. The plot isn't exactly breaking new ground, but it's an entertaining enough hour, which is fine because we've got a cast worth watching.
Hawaii Five-O continues to give us characters with verve and sharp wit. Some have argued that the bickering and bantering between Steve and Danny is getting old, but I personally love to see two protagonists who remain at odds rather than end up agreeing with each other all the time. (I'm reminded of how 24's Renee Walker was a great foil to Jack Bauer until she became Jack Bauer.) I enjoy the differences in their professional styles, and I like their senses of humor. They may disagree more often than not, but we also believe that they'd lay down their lives for each other. Scott Caan continues to be the show's unsung hero, as his Danny is the most well-fleshed out character, with his parental struggles and issues with his ex-wife.
Grace Park also gets a little more to work with here, as she does her best to defend Chin Ho's honor and therefore sheds some light on the fallout from his dismissal from the police force, and Daniel Dae Kim gets that backstory to play around with. Everyone is coming together in bits and pieces, and the characters make the rest of the show worth following. Not to mention, next week we finally meet McGarrett's sister, Mary Ann. That'll be interesting if it's anything like the original series.
In the ten o'clock hour, especially against so-so competition from NBC's Chase and the local news, you really can't get much better entertainment than Hawaii Five-O. Until next week, I'm off to try learning how to surf, or maybe just flail a lot.