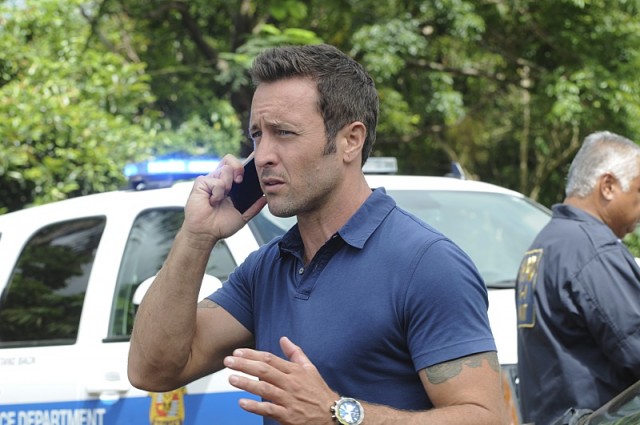 This week's Hawaii Five-0 finds the team trying to get back to normal after last week's bloody opener. If the case of the week is any indication, the opposite may be the case.
5-0 is called to the site of an IED explosion which took out first responders after the first device they believed they found was neutralized. Not long afterwards a second false bomb briefcase is located, this time with a message. Inside the briefcase is a poem which threatens more incendiary bloodshed unless the police release arsonist Jason Duclair. We first met arsonist Jason Duclair last year when he was taking pleasure in burning people alive. Duclair is still as sick as he always was, but the team figures out that a man named Richards is the one actually planting bombs. Richards has been communicating with Duclair, who he sees as an idol. It certainly seems as if they have the right man, since all a search warrant on Richards' place produces is another bomb. Except Richards is only the middle man, communicating with Duclair on someone else's behalf.
Sure enough, Duclair's accomplice isn't playing around. He demands Duclair's release or else he detonates a massive bomb parked in a van outside 5-0's headquarters at the palace. The driver of this van, Andre Trout doesn't actually want to free Duclair, but instead wants to be famous for killing him and taking his place. Trout wounds Duclair, but when Danny and Steve realize what Trout's plan is, it gives both Trout and Duclair the opportunity to escape. Feeling betrayed, Duclair calls McGarrett and hands him Trout's P.O. Box. What they reach the box, all they find is ashes. See what I mean about a grim season?
The personal storylines are shaping up to be grim as well. After surviving his encounter with Gabriel, Adam is frustrated that he couldn't stop his attacker. Adam is recovering, but that doesn't mean that the newlyweds are out of danger. Gabriel got away with Adam's money, money that the Yakuza is still expecting. The Yakuza are sitting on Adam and Kono's home biding their time. Kono gets tired of it, but by the time she confronts the men parked outside her home, they are both shot dead execution style. It looks as if this cat and mouse game just changed into a game of "Whodunnit."
There is no doubt, the future seems very bleak at the moment, but there were some lighter moments in the episode. Jerry is angling for a full paid position with 5-0. Given how much Jerry has done for them, Steve is seriously considering giving him an office. Still in production is Steve's planned proposal to Catherine, which sounds more like a covert op.
Is this season of Hawaii Five-0 shaping up to be the darkest yet?
[Photo via CBS]