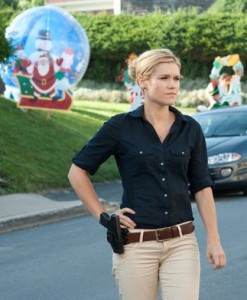 Syfy has once again given viewers their annual early Christmas presents in the form of special holiday episodes for a few of their most beloved shows. Christmas comes unseasonably early for Haven this year as the Stephen King inspired series explores Christmas in July, but it also came early to the production as they received the invitation to produce their first holiday special before shooting on their most recent season even began. Another gift recently came when the series learned of a last minute renewal for an upcoming third season.
Series lead Emily Rose agreed to answer questions about the poignant special titled, "Silent Night," an episode fans hope will signal a new Syfy holiday tradition. Needless to say, it'll likely forever tweak your appreciation of the song its title cites. One interesting tradition of Syfy's is to keep their holiday shows as outside continuity as possible, Emily explains, "It's non-linear; it's not in order. It's its own – out of time – sort of episode. Essentially, it's kind of like a little gift to the fans. A sort of holdover intermission… it's its own little gem of an episode. So if you miss the characters and you've missed the world, you can hop into it. But we're really hoping that the fans know not to put it in any kind of sequential order because it won't pay anything off or reflect on anything. We kind of took all time references out of it so it would just be its own little episode."
A longtime resident of L.A., Emily is no stranger to unseasonably warm winters, but the town that stands in as Haven is, of course, a major player too. "We laughed because we film in Nova Scotia, Canada in a small town called Chester." Elaborating, "And we we were like, "We really should have filmed this one first," because it's so cold there the majority of the time that it would have been nice to start out with a Christmas episode and then launch into the rest of the season. But we had a very, very small, small window of warm weather when we were in Chester. So to be filming it in the middle of the warm weather season, even though that was still pretty cold in Nova Scotia, was really, really funny. It was great."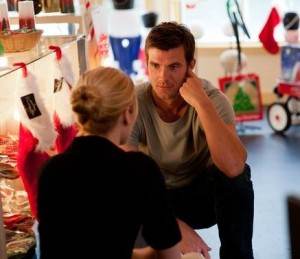 Emily adores the part of Canada she calls home five months out of the year, so this episode was a welcomed chance for her and Chester's local residents to share the season – even if in a "Stephen Kingy" kind of way. "We're not in Chester over the holidays, so to sort of get a glimpse ahead of what that would be like was really, really neat. Though it was totally sunny and no snow anywhere. But still fun. Everybody gets in the holiday spirit when you say, "It's Christmas!" It was really fun! We've ended up building great relationships with a lot of the locals that live in Chester. It was kind of like anybody that had been helping us for awhile, we threw them into different scenes and got locals involved in any way we could. Whether it be the dog-walker or dressing up the local shop a bit differently, or the theater people — all of that. It was really fun because there was this big communal feeling — It was a blast. I feel like Haven is the kind of small town environment that is, you know, conducive to a Christmas episode. But the fact that it's a 'Stephen Kingy' show makes it kind of interesting to be doing a Christmas episode in that sort of genre. But it's definitely a way that I feel very much welcomed into the Syfy family too. You know, it's neat to be included in that lineup over the holidays, it's neat to have people want to sit with the characters through that experience. And it's definitely an honor and a blessing. And I'm super thankful for it."
Considering that she "grew up on them," Emily explains why she thinks Christmas episodes have become such a pop-cultural tradition, "I think one of the things we love, culturally, about tradition is that there's something in it we can all relate to – in different traditions, in different ways – but we can all talk about it and all relate to it. I know as a kid I loved watching when television sort of merged into my own life. I really loved watching the characters on television go through, maybe, the same things that we were going through at home. Whether it was getting the Thanksgiving turkey ready or, you know, all of the Christmas mayhem these characters go through that our families also go through everytime we come together to hang out. So I think there's a bit of a joy we get from peering into an imaginary world with them kind of going through the same things we do; it kind of joins our two worlds together. I think we all love to have something that we can count on that makes us laugh and that entertains us. So there's the old traditional ones but then it's also exciting to see what new will come about. It's something to count on."
So, what does Emily look for in the holiday programming she favors? "I usually fall to the old classics that signify Christmas tradition for me – sitting down and watching Rudolph and The Grinch and all of those, all the classics. But I think for me it's really about if I want to sit with the characters again and if I've been missing them for a while and I want to, like, fit into that place again… then I'll definitely tune into that."
Asked about her favorite childhood Christmas gift, Rose revealed why she knew early she was destined to be a 'Gamer Girl', "I was a child of an engineer and a child of the 80s so technology was just up and coming in so many areas. So everything from the Atari to the Speak & Spell, to anything that had lights and was technologically advanced for the time, that was the thing that I was very excited about. That and a little RadioShack-type cash register I used to play store in my room with. Anything that I could use to make believe and be another character was tops on my list." Expanding on the subject of gift giving Emily gleefully divulged, "One of the traditions that we have every year as we've become adults – that I'm not getting to do this year because we won't be in Seattle past Christmas – is, we wait and don't normally buy each other presents or anything until the sales start up the day after Christmas. We all hop in the car and we ask my dad what store he wants to go to to get his presents, when there's the sales, and we go to all the different stores together as a family and go shopping for the presents with the person that wants the present. So we avoid the wrapping and we get to spend time together and everybody gets exactly what they want. I'll be missing that this year. But it's a fun family tradition."
Since the troubles of Haven and Emily's character Audrey Parker aren't going away for at least another season, the question arose, what would Emily's Christmas wish be for Audrey's future? "I would always hope that she would find out more about her mother or her previous memories. I will always be begging writers to dive more into that, and kind of look into it more because it's so intriguing. And whenever I do get to look into her past, I get to dress up in really cool period costumes."
Emily doesn't get to wear period garb in tonight's special Christmas episode, but trust that she rocks the tan khaki slacks (and Navy shirt) in what's sure to be the start of another wonderful Syfy tradition. Don't miss Audrey, Nathan and Duke struggle to rescue Haven's residents in, "Silent Night" tonight at 10/9c only on Syfy.