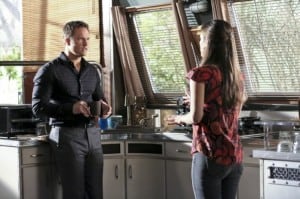 Zoe's come back to George's boat the morning after she confessed her feelings – only this time, she brings gifts in the form of vodka and coffee liqueur the ultimate mind eraser drink. She also gives George the knowledge that she knows what she did was wrong and that she's taking steps to move on from him by online dating using a profile she set up at 4:00 a.m. Her username? LetsGetaPhysical. He seems to be forgiving of yet another Zoe Hart social faux pas and the two part ways on decent terms.
On Zoe's way out, though, she runs into Tansy, who was out walking Dolly Parton. Rather than lying, George tells his girlfriend everything that he and Zoe talked about, including that she was making the effort to move on and that they got free vodka out of the deal. While Tansy seems to shrug off Zoe's attempt at getting back with George, Zoe is busy helping Rose get ready for the 9th/10th grade prom and showing off her dating profile on strikeamatch.com. Zoe may get props for putting herself out there and making the effort to grow, but Rose finds a lot of faults with the profile itself; namely, the profile picture featuring Zoe in her college lab coat was too professional/clinical and the four-page "About Me" section was, well, a little much. Zoe's in need of someone to go with to a friend's wedding in New York, so she tries to remain hopeful about the men the website matched her up with, her interest being peaked by a banker from Mobile.
That banker turned out to be Meatball lying to attract women, much to Zoe's horror. Meanwhile, George is faced with something pretty stunning of his own when Tansy comes home with star charts from Madame Van Horn. After drowning her Zoe Hart-related sorrows at the Rammer Jammer, the hairdresser received advice from Wanda that was meant to soothe her increasingly troubled heart. Though they may not look like they have many troubles, Tom and Wanda had their star charts done for $19.95, which prove that they're destined to be together. Therefore, any problem they encounter or bout of insecurity they have to face doesn't seem so big. Tansy only feels better about her and George until he points out an error in the information she gave the psychic, something that invalidates the (positive) findings and the other charts that Tansy paid to have done.
Zoe accompanies Rose and Max to the pro, thinking that she'd only be there for a minute and then be free to go home and wallow, only for them to spring a surprise on her. They've set her up on a blind date with Max's divorced father Michael. The two sit down to get to know one another and he tells her that he "couldn't say no" when they told him about her before politely excusing himself to go chaperon the prom. Zoe goes home and runs into Wade, who gives her a hard time about her recent romance troubles and inspires her to go seek out a stable adult that she can relax and laugh with: Michael. Zoe hasn't been with a man like him since arriving in BlueBell and in her mind, it might be the change of pace she needs, taking her out of the high school mentality Wade inspires in her and helping her become more of an adult.
She gets dressed up and goes to the prom where she ends up dancing with Michael and finds out that he has no interest in her. After Rose and Max told him about Zoe's romantic life, he feels like the doctor only wants drama in her life; when he said he couldn't say no to meeting her, he literally meant that they wouldn't let him say no and avoid the meeting, hence his quick escape earlier. If that wasn't enough humiliation for Zoe, Tansy confronts her over what happened with George, causing her to admit that something is very, very wrong with her. Michael then kicks her out for causing a disturbance.
Meanwhile, Tansy goes the other way and leaves, with George close behind. She tells him that she doesn't believe he doesn't have feelings for Zoe and suggests that they leave BlueBell and start anew; as long as they're in town, Zoe is always going to be around and at this point, Tansy can't handle that. While George does love Tansy, he can't agree to leaving BlueBell and the two break up.
For her part, Zoe goes home and waits on Wade to return from the Rammer Jammer. Wrapped only in a blanket, she mentions her hard night and tells him that she wants to feel better – and not talk. The two then go inside.
The Breeland Bunch
Due to the construction mishap last week at the Rammer Jammer, Lemon calls in a contractor, who ultimately gets them shut down by the country building department. Until she and Wade find a way to make the repairs on the bar/restaurant, they'll have to stay closed; with bad wiring and dry rot among the place's problems, it'll be a stretch to get every done quickly, especially seeing as how Wade tries to skimp out on paying a professional contractor and gets the place robbed as a result. The man he hires leaves Wade holding the beam that, if moved, could send the entire restaurant crumbling in around him, taking the money they could have hired a real contractor with him. No money means no repairs and no repairs means no restaurant opening and no restaurant opening meant no money. Therefore, Wade and Lemon are going to have to figure out a way to get themselves out of this mess through other means.
Lemon goes to Brick about getting a business loan from him, but Shelby puts a stop to that immediately, reminding her fiancee that his daughter has made great strides this year by standing on her own. Is now the time to undo some of that progress? Brick ultimately agrees with her assessment and Lemon has to turn to her plan B: lotto scratchers. Lavon runs into her feverishly playing the cards and offers to give her a loan, only for her to realize that Shelby was right and reject his gesture.
At the Breeland house, Brick attempts to sneak out and give Lemon a check. Shelby was already one step ahead of him, though, as she had read the check and waited for him to leave. She confronts him about going back on his earlier word that she had the same decision-making authority in the household that he had; to her, him going back on what she wanted is proof that he doesn't trust her after what they went through. The two come to realize that they're not a big fan of the whole "fiancee" stage of a relationship, so they plan to eschew a big blow-out BlueBell wedding for a quickie ceremony the following day.
Wade and Lemon get an answer to their problems at the Rammer Jammer and thankfully, it doesn't force them into prostitution or a life of crime. Lavon gathered up a whole hoard of BlueBell residents to help with the repairs and they plan to work all night until the Rammer Jammer is up and running.
Mayor Prank
Lavon informs AnnaBeth that he may be able to pursue damages against Mayor Gainey for the Fillmore leader's attempt at building a mall too close to the BlueBell coastline. He plans on sending a taunting card to his rival, although AnnaBeth encourages him to take the victory in stride and not be childish, only for Gainey to strike back quickly. Being that the Fillmore limits push up against BlueBell, Mayor Gainey has moved a dump as far as he could while keeping it within Fillmore, infuriating Lavon. To get back at Gainey, Mayor Hayes gathers up two garbage bags full of trash and drives to Fillmore to dump it on Gainey's doorstop. He does so, but Gainey confronts him about it and the two have words; however, Mrs. Gainey is seen and seems to be a reasonable person, giving AnnaBeth the notion that maybe the women could work out a truce that benefits both sides.
Lavon feels like she doesn't understand mayoral business and tells her not to, but AnnaBeth ends up meeting (alcoholic) Mrs. Gainey at a bar to discuss business. For Mayor Gainey to dump the dump, he's going to have to have something major in return, which AnnaBeth negotiates to be the cancellation of the BlueBell 4th of July fireworks celebration. What the Gaineys don't know is that BlueBell has been forbidden from having a celebration this year due to burning down the old pier last year, so AnnaBeth got Lavon what he wanted without having to give up anything.
Additional thoughts and observations:
-I don't think I've ever heard of a 9th/10th grade prom. I've heard of an 8th grade dance and a junior/senior prom, but in all the TV I've watched, I've not seen a dance like this before.
-I kind of wanted to read Zoe's dating profile (or serial killer manifesto, as Rose called it), if only to see what she could have possibly gone on for four pages about. Her fourth grade exploits are bound to be pretty cute.
-This was probably the funniest Hart episode of the season, which I appreciated considering the romance overload we've been running on. I think my favorite line was "Y'all eat a lot of fruit" from Mrs. Gainey or Lemon telling Shelby to "take small sips" to avoid choking on her champagne, while AnnaBeth and Mrs. Gainey's "I can't see anything"/"Neither can I" exchange at the bar was silly – in a good way.
-Despite said the abundance of said romance, I think it's all been in service of character and has pulled some interesting threads, particularly by making Zoe a very flawed but very human protagonist. She's frustrating, immature, and a bit of a flake, but there's something so real about her to me that I can't help but like and appreciate.
-Next week on Hart of Dixie: It's the season finale (!!!) and Zoe is looking forward to heading back to New York for a little time away from BlueBell. Meanwhile, George runs into Lily Anne and gets a help with his heartache, Lemon has to scramble to book a band for the Rammer Jammer, and Lavon enlists the BlueBell townspeople to aide him in getting something back from Todd Gainey, Sr.