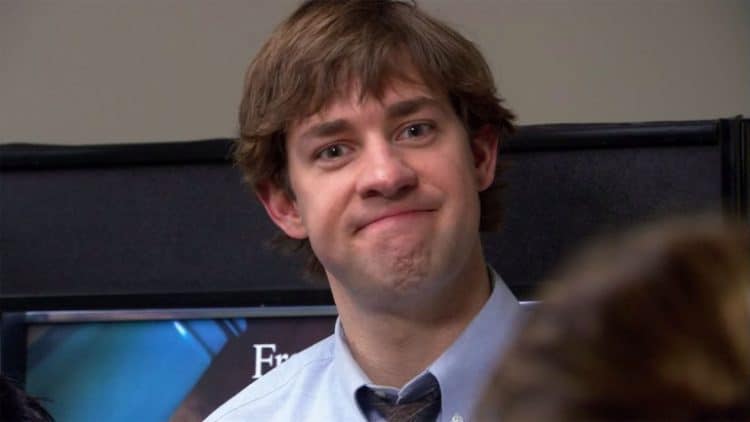 We don't often think of our 9-to-5 workplaces as spaces for zany humor and out-of-this-world antics. But in the TV universe, the places we work at are the best setup for 25 minutes of laughs. That's why there have been dozens of sitcoms created that are about different places of work, focusing on different occupations and the challenges that come with them. Yes, in the real world, doing overtime to file paperwork isn't fun, but in front of the camera, it's a perfect setup for a joke or two. Here are the five best workplace sitcoms you should check out right now.
Superstore
Superstore follows a group of employees at a fictional big-box store called Cloud 9 in St. Louis, Missouri, as they traverse through the stress and mundanity of working in retail. The show was created by Justin Spitzer, a former writer for The Office, and stars America Ferrera as Amy Sosa, a longtime employee of Cloud 9. The show also features Ben Feldman, Lauren Ash, Nico Santos, Colton Dunn, Nichole Sakura, Kaliko Kauahi, and legendary SNL alum Mark McKinney. In an interview with Vox, Spitzer talked about the development of the show, particularly about portraying the financial difficulties the characters experienced, which very much reflects the reality of being an employee for a store like Cloud 9. "The challenges are that … well, for one thing, I grew up certainly upper-middle-class. Not all the writers did, which is good. But I always want to make sure that when we do anything dealing with [financial hardship], that we're a) not being condescending in any way, and b) being truthful to it, but acknowledging that this is a comedy and we can take creative liberties, as long as we know that we're taking liberties and know why we're doing it. That we're not just making mistakes based on assumptions from things we've seen on TV." An article from The Guardian talked about the show's reliability, writing: "As it comes to an end, Superstore shows us that we can witness the truth about work on screen, without it seeming either sentimental or a traumatic ordeal, by highlighting the authentic hope and goodwill of the people we work with. It is through them that work is made bearable – the load is lightened, if only through a moment's laughter."
Parks and Recreation
Parks and Recreation is a mockumentary-style sitcom that depicts the lives of government employees of a low-priority department as they go through the often-frustrating bureaucracy of government work. The show stars Amy Poehler as Leslie Knope, an overly idealistic assistant director of the Pawnee Parks and Recreation Department. The cast also features Nick Offerman, Aubrey Plaza, Chris Pratt, Aziz Ansari, Rob Lowe, Adam Scott, Jim O'Heir, and Retta. Talking about the appeal of the show, The Odyssey Online wrote: "Satirizing government events and craziness that occurred during its run, "Parks and Recreation" is pure gold. There's no doubt that there is at least one joke per episode that'll make you laugh. The show brought on some of entertainment's greatest comedians and actors, and they frequently ad-libbed some of the funniest lines." The positive character of Leslie Knope is also someone who appealed to the audience, a refreshing take given that most sitcom leads are often shown as being dysfunctional. On her character, Amy Poehler said in an interview with The Guardian: "It was like wearing a suit: after a while, you stretch it out or alter it to fit you. I'm not as consistently enthusiastic as Leslie, but I really related to the energy she got from trying to make others succeed. She was fun to play because every day you got to show up, tell everybody what to do and how much you loved them. The cast was that very rare instance of everybody really liking each other and hanging out. We bonded very quickly, and still see each other. We text each other and stay in each other's lives."
30 Rock
Another show that's led by a Saturday Night Live alumnus, 30 Rock follows the story of Liz Lemon, the head writer of a fictional sketch comedy show loosely based on SNL. The storylines also surround the major players that make the show happen, from the writers to the actors to the executives and even the NBC pages. The show stars Tina Fey as the main character Liz Lemon, appearing alongside Alec Baldwin, Tracy Morgan, Jane Krakowski, Jack McBrayer, Scott Adsit, and many others. An article by LitHub talked about the enduring legacy of 30 Rock, writing: "But Tina Fey is a perfectly good performer, and a brilliant genius comedy writer. It's a show with almost no straight white dudes, which in comedy is a big deal still. It is also fundamentally a show about feminism in the context of trauma, and what that means."
Brooklyn Nine-Nine
Brooklyn Nine-Nine recently wrapped up, airing its last episode this year, but the show is funny enough to snag a spot on this list. Brooklyn Nine-Nine follows the story of New York City cops stationed at the 99th precinct in Brooklyn. The show stars Andy Samberg as Jake Peralta, an immature detective who, despite his childishness, is often at the top of the leaderboard for most crimes solved in their precinct. The show also features Terry Crews, Stephanie Beatriz, Melissa Fumero, Joe Lo Truglio, Chelsea Peretti, Dirk Blocker, Joel McKinnon Miller, and Andre Braugher, who gained critical acclaim for playing Captain Raymond Holt in the series. The show, while still being a sitcom, dealt with serious topics, like police harassment and sexual assault. Vox characterized its legacy as follows: "Yet Brooklyn Nine-Nine is beloved by many a young progressive for its diversity and its attempts to tell stories about some of the more difficult aspects of American life right now. Its core cast features two Black men and two Latinas, and its characters, both regular and recurring, include several queer people. The show has aired memorable episodes about racial profiling, workplace sexual assault, and coming out as bisexual."
The Office
No best workplace sitcom list can exist without The Office. The show is often regarded as the best modern sitcom, with its brilliant writing, dynamic cast, and a masterful performance by Steve Carell. The show follows the lives of employees at a dying paper company as they struggle with the everyday mundanity of corporate America. Steve Carell plays Michael Scott, the regional manager of Dunder Mifflin. The cast also includes Jenna Fischer, Rainn Wilson, John Krasinski, Angela Kinsey, Ed Helms, and many others, all playing employees of Dunder Mifflin. The show was nominated for more than 40 Emmys and catapulted the careers of many of its cast members, including Carell, who emerged out of the series a true-blue Hollywood superstar.
Tell us what's wrong with this post? How could we improve it? :)
Let us improve this post!