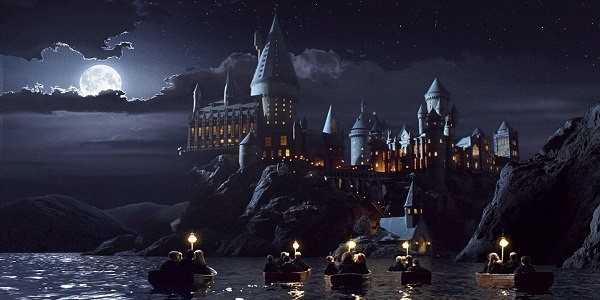 It's been 20 years since J.K. Rowling blessed the world with the very first glimpse into the Harry Potter universe. Since then, the world of witchcraft and wizardry was never the same. Harry Potter has given us plenty of wondrous things to imagine and explore, and it's taught us many valuable things about life, love, family, and friendship. Truly, once you've become a Harry Potter fan, you'll always be one at heart. We all know that you've always wanted to attend Hogwarts or at least pay it a lengthy visit.
To coincide with Harry's son Albus' the first day of school on September 1, 2017, the official Harry Potter website, Pottermore, unveiled an interactive look into the Hogwarts School of Witchcraft and Wizardry. This new interactive experience is a digital representation of the entire school of magic. The result is nostalgic to say the least. As soon as you click the Hogwarts Experience link on Pottermore, you'll be transported into a misty page that will require you to either log in or register.
Upon doing either, you'll have access to roam the castle grounds as you please. You'll find tons of hotspots that will give you trivial or historical information about Harry's world. You can cruise along the corridors and find familiar objects or discover something you might not have noticed in the books before. You can visit Professor Dumbledore's office, the grand dining hall where candles float about, the dormitories, and many more.
There's Professor Sprout's greenhouse, Professor Snape's potions room, and maybe even spot Moaning Myrtle at the prefects' bathroom. With this digital platform, we can now get a clear picture of where everything was in the castle. This might be a good time to re-read the beloved and magical stories once again. It'll be interesting to actually see where the stories unfold as we're reading them. On the Hogwarts Experience, you can also visit beloved Hagrid's hut, take a look at how big the Quidditch pitch really is, and explore the Forbidden Forest at your own risk.
We now have Harry Potter and the Cursed Child to enjoy along with the Hogwarts Experience. We're still hoping for more from J.K. Rowling and the Harry Potter story. This might be the beginning of something big that's yet to come in the wizarding world. We're going to keep an eye out for clues as we explore Hogwarts obsessively in the years to come.
The Hogwarts Experience can also be accessed via mobile, so you can take the world of Harry Potter with you anywhere you go. There will be plenty of things to discover; we're sure Rowling will keep us on our toes with constant new additions. We wouldn't mind being able to board the Hogwarts Express too, but we're not pushing it. We're just glad we got our acceptance letter and can now attend Hogwarts as we please. All we need now is our robes and magic wands and off we go to discover magic with Harry Potter once again.