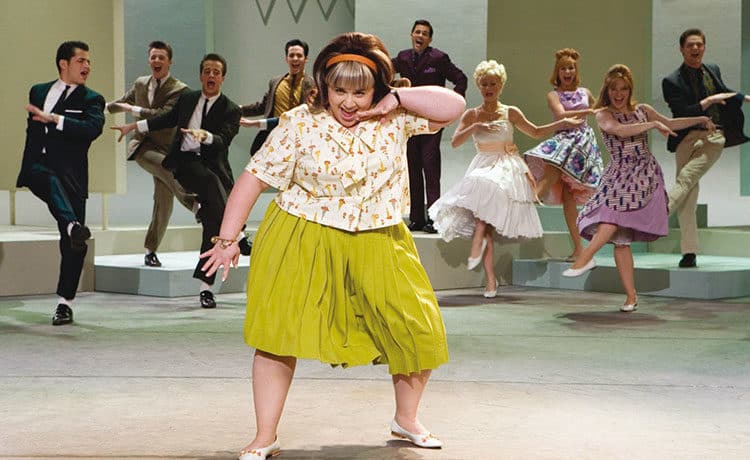 One of the greatest musicals to grace the big screen in the last two decades, Hairspray is turning 15 in 2022. The movie had it all, from John Travolta playing the protagonist's mother to Christopher Walken singing tunes to Queen Latifah stealing the show. This year, it turns 15, and it's still worthy of everyone's rewatch. Here's what the movie is about: Tracy Turnblad, a chubby teenager with big hair and an even bigger dream, loves to dance. When she learns about a local TV dancing competition that she could be perfect for, Tracy takes her shot at stardom. But she faces stiff competition from the popular girl in school, Amber von Tussle, and her mother, Velma, who runs the TV station. Tracy's only hope is to team up with Seaweed, a black student at her school, and use their talents to break down the racial barriers on television.
In a review by Bob Mondello for NPR, he praised the movie's ability to stick to the energy of the original film, despite featuring an impressive A-list of cast members. "For a star-studded big-budget musical, Hairspray does a nice job of retaining the funky sweetness of the original. Back then, the inventively trashy filmmaker John Waters was having campy fun with early-'60s hair and fashion, and with his cross-dressing hausfrau, but he was also dressing down a certain set of early-'60s attitudes about conformity and racial segregation. The Corny Collins Show is an all-white affair (though its producers do allow for a "Negro Day" once a month). Tracy joins forces with the black kids to protest that state of affairs with what may be musical comedy's most rousing civil rights' march — a driving, gospel-choir-backed finale called "You Can't Stop the Beat." CNN also reviewed the movie, writing: "The movie nearly trips up on its own excitement once or twice, and it's overloaded with talent that it doesn't always put to the best use. It's good to have Michelle Pfeiffer back, but her vamp is never called on to go beyond one note. On the other hand, Queen Latifah is such a significant bonus as Motormouth Maybelle she practically demands her own show. Bright, campy and wonderfully light, "Hairspray" reminds us that fun comes in all shapes and sizes. It's also one of the few "event" movies this summer that doesn't outstay its welcome. That's worth singing about, no matter what your name is."
Hairspray was groundbreaking in its depiction of race relations in America. The movie was set in the early 1960s, at a time when racial segregation was still the law of the land. By featuring an interracial romance and portraying racism as something that needed to be overcome, Hairspray sent a powerful message of hope and unity. In honor of the movie's 15th anniversary, let's take a look back at some of the reasons why Hairspray is still worth watching today.
The music is incredible
Hairspray features some of the catchiest tunes from the 60s, including "You Can't Stop the Beat" and "Good Morning Baltimore." The movie's soundtrack reached number one on the Billboard charts and won a Grammy for Best Compilation Soundtrack Album. Reviewing the music of the film, Spirituality and Practice wrote: "Hairspray is blessed with a vibrant vitality in song and dance that just doesn't stop from the opening to the film's finale "You Can't Stop the Beat." The up-beat music and lyrics of Marc Shaiman and Scott Wittman are catchy and melodic. They have written some new songs for this production, including "Ladies Choice," sung by Elvis-like heartthrob Lin, and "Come So Far (Got So Far to Go)," an inspiring song led by Queen Latifah. Newcomer Blonsky carries the movie on her shoulders and belts out all the power of "I Can Hear the Bells" and her other numbers. Hats off to Shenkman's choreography which is nothing short of sensational."
The cast is unbeatable
Hairspray boasts an all-star cast, including John Travolta, Queen Latifah, Christopher Walken, Michelle Pfeiffer, and Zac Efron. The movie was also one of several films that helped launch the career of Nikki Blonsky, who played Tracy Turnblad. Travolta's appearance as Tracy's mom, Edna, surprised many fans of the Hollywood star. In an interview reported by Reuters, Travolta addressed his role, saying: "It took a lot of cashing-in of male ego to do this," Travolta said in an interview. "But I finally said, 'You know John, acting is what you do best. You have to trust being an actor and not have this thing with the male ego get in the way." "I love fun movies that also have something to say," Travolta said. "They tend to stay with me, always." Queen Latifah, who played Motormouth Maybelle, explained how her character was developed in an interview with MovieWeb: "There was no way they were going to waste me in the background. They paid me a lot of money. I figured they were going to get their money out of me. As far as input, I didn't really have that much say. It was all there on the script. I didn't have to add much to it. It was more about designing her look, and working with the wardrobe department. We wanted to get the right costumes, and we wanted to get the right hair look. Everybody was so excited to do this, that all of the departments were fine. All pistons were firing. For me, it was about getting the character right. Deciding to do an accent or not. Which I decided against. Even though my family is from Baltimore, I kind of went easy on the accent."
The movie is a feel-good story
Hairspray is the perfect movie to watch when you need a pick-me-up. It's a feel-good story about following your dreams and working hard to achieve them. And at the end of the day, isn't that what we all want?
The movie is relevant today
Sadly, racism is still a problem in America today. But Hairspray provides a much-needed message of hope, showing us that change is possible if we work together. This anniversary is the perfect time to revisit the movie and be reminded of its important message.
So there you have it! These are just a few of the reasons why Hairspray is still worth watching today, 15 years after its release. So pop some popcorn, gather your friends, and get ready to dance along to one of the greatest musicals of all time.
Tell us what's wrong with this post? How could we improve it? :)
Let us improve this post!