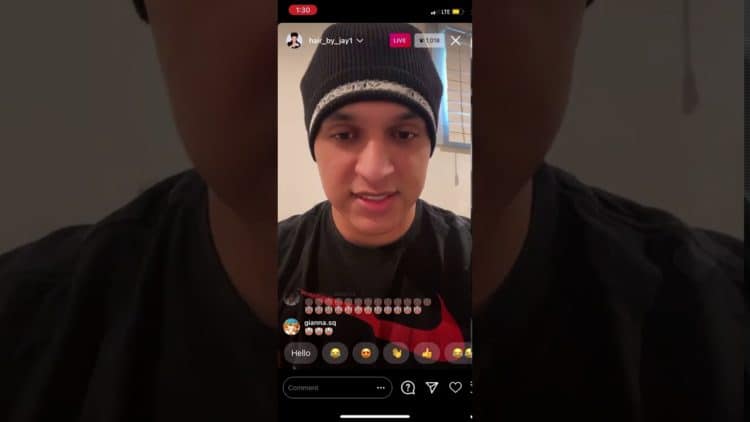 Looks are everything in the entertainment industry, and part of having the 'right' look is having the perfect hair style. Los Angeles based stylist, Hair By Jay has become well-known in the celebrity community for knowing just what to do to create the most beautiful styles. Over the years, he has worked with a wide range of high-profile clients including Yung Miami, Kylie Jenner, and Jeffree Star. Recently, however, the attention Hair By Jay has been getting hasn't had anything to do with hair. He's gotten a lot of backlash for making fun of internet personality Trisha Paytas in an Instagram live session. Apparently, Jay's comments stemmed from an issue between Trisha and Jeffree Star. Jay has since apologized for his behavior, but only time will tell if it comes back to haunt him. Keep reading for 10 things you didn't know about Hair By Jay.
1. Lots Of People Are Calling For Him To Be Canceled
After getting a lot of negative comments for the way he spoke about Trisha Paytas, Jay returned to Instagram live to clear things up. Although he apologized, lots of people simply weren't buying it. Countless people across the internet are calling for him to be canceled and there is a chance that this incident could seriously hurt his business.
2. He Is A Private Person
Despite the fact that he's been around a lot of celebrities and has a pretty big social media following, Hair by Jay is a very private person. He doesn't reveal any personal information about himself and there aren't any details about him floating around on the internet.
3. He Loves Fashion
Hair is definitely Jay's thing, but it's not the only he's into. Jay also loves fashion and he has a great sense of style. He loves putting outfits together and showing his personality through the clothes he wears. He especially loves wearing expensive brands like Louis Vuitton and Givenchy.
4. He Isn't Afraid To Try New Things
If you've ever seen any of the hair styles Jay has done, you've probably noticed just how creative he is. When he does someone's hair, he doesn't just copy what other people are doing. He isn't afraid to try out different colors and techniques and he always manages to come up with something that blows his clients away. He also likes to get creative with his own hair styles.
5. He Doesn't Care What Haters Think
No matter what you do in this world one thing is for sure: there's always going to be someone who has something to say about it. Due to the popularity of his clients, Jay is no stranger to dealing with people's comments. Fortunately, he doesn't let people's words get in his head.
6. He Started His Own Business
Jay isn't just a hair stylist, he's also an entrepreneur. He started a business called Fame with Jay which is aimed at giving "everyone access to his amazing units allowing anyone to express their inner fame." People who are interested can purchase wig units directly from his website.
7. He Says He Never Had A Problem With Trisha Paytas
With the way things went down between Jay and Trisha, lots of people naturally assumed the two must have had some sort of issue. In his apology, however, Jay explained that he never had a problem with Trisha in the past and the two had actually been cordial the times they've worked together.
8. He Doesn't Just Do Wigs
Wigs are the first thing that comes to mind when people think of Hair by Jay. While it's no secret that he can definitely lay a wig, that isn't the only thing he's good at. Jay is also a very skilled braider and has shared some of the creative styles he's done on social media.
9. Jeffree Star May Have Fired Him
As far as we can tell, Jeffree Star hasn't released any kind of official statement regarding the issue between Hair by Jay and Trisha Paytas, but several sources have reported that Jeffree and Jay have parted ways. Additionally, on January 17, Jeffree tweeted "Goooood morning to everyone except the guy that used to do my hair". Losing a client like Jeffree could really hurt Jay's career.
10. He Loves Cars
There's no information on Jay's net worth, but by the looks of things his pockets are doing just fine. He loves nice things and he's really into luxury cars. Based on his Instagram, it looks like he owns a Bentley. For those who were wondering, those cars start at at least $205,000.