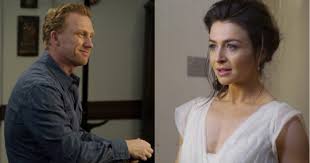 We've arrived at the season finale of Grey's Anatomy's 12th season. In seasons' past the finales have ranged from heart pounding to providing closure, but always with something to look forward to for next season. This finale for season 12 was probably a little bit of all three, and definitely the sweetest Grey's has had in years. Does that mean that Amelia and Owen actually made it down the aisle, or did their journey together end in heartbreak?
Meredith can't quite get on board with Amelia and Owen's whirlwind wedding. At least she's there though; telling Amelia to "stuff your feelings in", but she's there. Amelia's family refuses to come to her wedding. Meredith tries to be there for the two of them, but suggests to Owen that he tell Cristina he is getting married. This sends Amelia into a tailspin where she screams about being alone on what is supposed to be the happiest day of her life. From this point forward, Meredith agrees to be on her side, whatever she needs no questions asked. Meredith follows Amelia right out the door of the church. Luckily Owen trusts that Amelia will come to him with a final decision either way.
Callie's life really has become miserable. She has lost Penny and Sofia. Arizona should be happy that she got her way, but she's not if it means that Callie is miserable. Callie and Arizona once loved each other deeply. Just because they didn't work out doesn't mean they want the other to be in pain. Arizona bends, telling Callie to take Sofia to New York for the week, and they will figure the rest out as it comes.
Alex is done with Jo. He can't keep going back and forth with her anymore when she won't be honest with him. After everything Alex has been through, he is done with the drama. He just wants to be settled down. DeLuca becomes Jo's babysitter after she drowns her sorrows in break-up alcohol. Under the influence she reveals that she can't marry Alex because she is already married. She can't tell Alex that her whole life is a lie. Jo lives under an alias because she ran away from an abusive husband, and if she tries to divorce him he will come after her. By the time Jo gets all of this out she is undressing herself for bed. Alex misunderstands why DeLuca is in his apartment with an undressed Jo, and starts punching him. And Jo wanted to get away from the violence.
Riggs and Meredith are in an interesting place after their hook-up. They're not getting attached to each other but there's definitely intrigue there. April's circumstances leave Riggs to deliver the rings, and Owen actually lets him stay. After a conversation about their deceased loves, Meredith and Riggs start to think that maybe there's potential for them. Unfortunately Maggie doesn't know anything about this and confides to her sister that she likes Riggs. Ooops.
Pregnancy brain has left Owen's best man April a little scattered. She forgets the rings and commandeers Ben to help her go get them. April's baby decides to make an early entrance at Meredith's house. World's worst timing, but considering how April's last pregnancy ended, she doesn't mind giving birth under less than ideal circumstances. Jackson is caught up with a dementia patient who thinks he's her husband, so he doesn't answer April's calls. April and Jackson's baby is breech. April won't survive losing another child, so Ben has no choice but to perform a C-section on Meredith's kitchen table. Ben is heartbroken to realize that Bailey doesn't trust him with patients, but he has to prove himself because April's life depends on it. After a horrifically painful birth, April and her baby girl survive. Ben saves his friend and finally earns back his wife's trust.
With both of her sisters by her side downing slurpees, Amelia has to confront why she really wants to marry Owen. After running down the list of scenarios, excuses, and judgments, it all boils down to one thing. No one is going to dictate who or when or how many times we're allowed to fall in loves, and Amelia loves Owen. Meredith pushes her sister to believe, finally getting her down the aisle.
Now sound off Grey's fans! What was your favorite moment from the season finale? What was your favorite moment of Season 12?
Grey's Anatomy Season 12 Episode 24 Review: "Family Affair"
Summary
The Grey's Anatomy family pulled together to celebrate new life in the season finale.