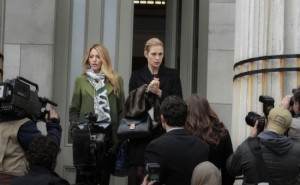 Gossip Girl chose not to drag out a few key plot points concerning the Rhodes and van der Woodsen families. First up was Ivy. The case over CeCe's will went to court and, while we didn't get to see any of the proceedings, we did find out that Ivy's inheritance was revoked and the Rhodes estate is to be divided equally between Lily and Carol. But to put up a good front, Lily invited her family to her penthouse for a public dinner in order to repair the family image.
The "other" Charlie Rhodes also had an important part to play when William van der Woodsen met with her to tell her that he's her father. Instead of keeping Carol's secret and allowing himself to be blackmailed, William decided to come right out with the truth, but, at Lola's request, he agreed to keep it quiet from the rest of the family. Unfortunately, Serena found out the big news secondhand through Nate.
Serena immediately ran to tell Lily the news, who took it quite calmly. She admitted that William had cheated on her many times during their marriage and suggested they keep this news quiet until after the dinner with the reporter.
But it seems that Lily had a few tricks up her sleeve, calling up Ivy to propose a partnership. When the dinner started, Lily spilled the beans about Lola's paternity and Carol's plans in front of the reporter. Everyone was furious that the truth had come out, but none more so than Carol. However, the paternity bombshell wasn't the only one revealed during dinner. It turns out that Lily convinced Ivy to confess her fraud to the police in exchange for immunity so that Carol could be arrested. The price for Ivy's confession? $1 million. And while Ivy insisted that she just wanted to be part of the family, Lily bade her goodbye. But then there's the twist: Ivy ripped up the check and is determined to stay in New York to earn her way back into the family. To be honest, the whole thing was rather delicious.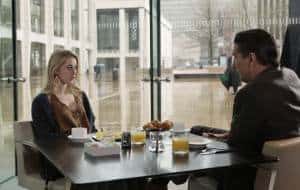 Of course, Lola insisted that she was also getting hurt by Lily's vengeance against Carol and Serena lashed out against her father, jealous of his new daughter. Despite William's apology, Serena was upset that he had barely acted like a father to her for her entire life, but seemed eager to protect Lola as soon as he learned she was his daughter. When Rufus found out what Lily had done during the dinner, he confronted her, telling her that he didn't want anything to do with her if this is who she wanted to be. When she asked "where else will you find an Upper East Side woman to take care of you like I have?" he thanked her for making his decision to separate a lot easier.
Carol's troubles still weren't over: William convinced her to give him power of attorney, promising to take care of Lola. Only he called up Lily, saying that he would sign over Carol's half of the estate to her. But Lily's vagueness about taking care of Lola convinced William to leave town with the money.
In the less delicious storylines in this week's Gossip Girl was Blair's anger over her decreasing social status, which led her to try and steal the spotlight at an awards ceremony for Dan. Finally, Nate seemed very interested in learning more about Diana in order to buy out her share of the Spectator. He discovered that she was being bankrolled by Jack Bass. After an investigation by his PI, Nate actually seemed convinced that Elizabeth was really Chuck's mother while Diana was a fraud. He told Chuck as much, but Chuck realized that the connection between Diana and Elizabeth was Jack. And when he recognized the tattoo on the arm of a man in a photo with Elizabeth Chuck wondered if Jack is really his father. Another Gossip Girl, another question about Chuck's family history.
Gossip Girl is all new on April 30, so tune in next week. Until then, watch a promo for the next episode.
Tell us what's wrong with this post? How could we improve it? :)
Let us improve this post!