Meanwhile, Blair notices Chuck is gone, and recalls him talking to a hott blonde earlier. She freaks, and storms over to his apartment in a jealous rage, only to find him in bed, alone, with a headache. Apparently he left her lots of messages. He tells her he wouldn't be Chuck Bass without her, and all he wants is her happiness. It's a cute, little moment.
Vanessa finally gets her chance to flip out on Dan, and he snaps right back at her that things aren't as easy as they seem, with his life in transition. She tells him she doesn't care if he's rich, just that he needs to be himself, and she hopes that's who shows up at NYU, because she actually likes that guy. Snap.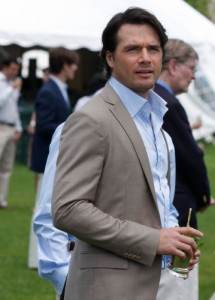 Before you know it, she's walking home with Scott, reliving the whole scene. He tells her not to write off the friendship, because they seem like nice people. They kiss.
Here come closing scenes:
Nate and Bree, in his grandfather's little red convertible, kissing goodnight.
Chuck and Blair, staging another game, this time with just the two of them: Chuck as the waiter, Blair as the disgruntled customer.
Serena on the phone, leaving a message for her father, we can only assume. She tells him she's "going to do whatever it takes, for however long" to get his attention, implying that's what was behind her antics over the summer.
Rufus trying to do the fatherly thing and keep Serena out of the tabloids by buying up all the paparazzi photos, but he's told there's still one photographer who couldn't be reached. Naturally, Serena is in cahoots with said photographer, and he's promised to try to get the photos published in Europe and Asia, so her father can see them no matter where he travels.
"Never give up, never surrender. XOXO Gossip Girl."