Nate and Chuck are having bro-talk on the street, and Chuck convinces Nate to use Bree Buckley, the redhead from the helicopter, to get back at his family, and to bring her to the big Vanderbilt polo match. Cut to a similar girl-talk scene between Serena and Blair, where Serena lectures Blair on her strange games with Chuck, insisting that it will go wrong. The scene cuts between the girls and boys, with Nate telling Chuck the same thing.
Dan meets up with Vanessa, where she explains that she and Nate 'hooked up one night in Prague, but it was no big deal.'She catches him with a designer wallet, filled with hundreds, and he gets awkward. He oddly lies to her, saying he's taking the subway home, but she, of course, sees him getting into a limo and gets mad.
Back at the van der Woodsen apartment, Rufus finally cracked the case and discovered that Serena wasn't an angel on a vow of silence all summer.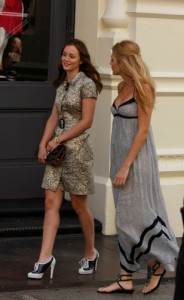 Over in the psychological-disorder-waiting-to-happen that is Blair and Chuck, it seems as though Serena's words have struck a chord, and she's having a minor freak out. Classic Blair–she's trying to play it cool, but she sucks at it. She and Chuck go to scope out models for their next game, but Chuck quickly picks up on Blair's hesitance, and they go home.
Out on the streets of Manhattan, Serena is hiding from the paparazzi when she bumps into Carter, whom she has pointedly be avoiding, and earlier told Dan was stalking her. "You can't avoid what happened forever," he tells her. She grabs the attention of the paparazzi, who swarm her, and she escapes.
At the Brooklyn diner, Vanessa is with Scott, whining about Dan lying to her. She lets it slip that Dan and his whole family will be at the Vanderbilt polo match, at which point Scott insists she call Rufus to get an invite–with a plus one.
Back at the van der Woodsen hotel, Serena assures Rufus that she has not gone back over the deep end, she was just celebrating graduation. She leaves, and Dan calls on none other than Blair Waldorf for help.