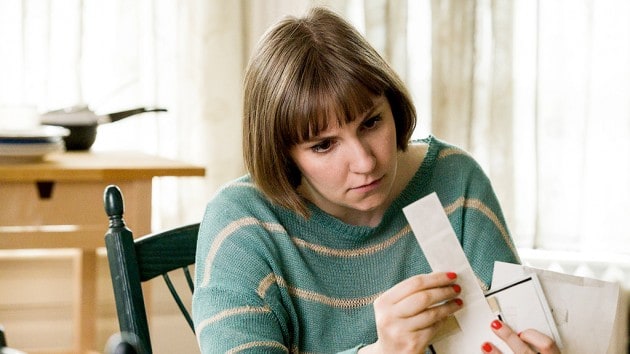 The second installment of the fourth season of Girls treats the audience to a Hannah-centric episode. This particular choice, makes absolute sense, given the fact that the lead character is starting a new journey, far from the life in NYC that the audience has been following for three seasons. That's right, Ms. Hannah Horvath is in grad school now. As I stated in my previous review, regarding the season 4 opener, Hannah is growing; however, there is a question that still lingers from "Iowa": is she plainly growing or growing up?
"Triggering" opens with a sequence of shots of green crops, a red tractor, a narrow road, then the grass from campus of Hannah's school. The images work seamlessly as the quintessential substitute to the "Welcome to Iowa" sign, and they ease our way into the tranquil place. In fact, the whole episode is an elaborate, elevated way to give us, the audience, a taste of Iowa; whether there is a welcome party or not involved, is highly debatable, which is, once again, one of Girls' strengths. The show has never been desperate to spoon-feed viewers. It has, instead, acted as a thought provoking device. It can not be denied that Girls has challenged its followers since day one. Undoubtedly, Iowa poses a new trial. And not just for Hannah.
The beautiful green of a field takes over the frame. The openness of the place is inviting as it becomes slowly crowded–not overwhelmingly so but rather in harmony–by students. Iowa, though, remote to the run of the mill New Yorker, seems full of possibilities. It may or may not be Hannah's blank space to fill with writing. I will not lie: I can hardly picture this unlikely heroine far far from the Empire State and feeling at home in the American Heartland.
Speaking of space, in contrast to the reality of looking at rental apartments in New York, where prices are exorbitant while the square footage is minimal, Hannah goes on what seems to be a dreamy house-hunting session, and as a result, she leases an immense house, fully furbished, for less than the money she would be spending for a medium-sized room in Brooklyn. It comes as no surprise that she announces to Marnie, via Skype, that everyone should move to Iowa.
In spite of Hannah's initial infatuation with everything Iowan, Marnie behaves like a bubble burster; she quickly pronounces "No one is moving to Iowa, ever." Though the statement does not come off as catty, but alas an unfiltered comment, Marnie does indeed slightly push Hannah's buttons by also mentioning Adam, who Hannah wants and doesn't want to hear about. It appears as things are not that fluid in that front.
Interestingly enough, Hannah is snacking on grapes, praising her new Iowan status, while Marnie adds yet another link to her chain of patheticness in the shape of a scarf she is knitting herself to gift to her new lover/bandmate, Desi. Hannah points out that her friend has not knit since her second semester as a freshman in college, when she made a hat for a bipolar guy. By explaining the absence of an action, Hannah is shedding light to a pivotal factor: Marnie's pattern. Skype freezes, leaving Hannah wanting to say more, and the audience with an itch that will last a week, possibly more.
In spite of some breadcrumbs spread in the episode (Hannah falls from her bike, there is a problem with her credit card, the cellphone reception is spotty at best, etc.), the wifi signal messing up the Skype session operates as a preamble. Right after it, things start crumbling down fast for Hannah.
Nostalgia strikes at night. Hannah checks pictures of her and Adam on her cellphone. Moving forward with her life and education might have costed her her relationship. There is some pondering, a few seconds where we can actually see Hanna's realization that she is, maybe, becoming an adult. That is pulverized by the noise of a bat that gets into the house, causing Hannah to seek shelter under the covers, much like a child would do. Then she proceeds to frenetically run out of the house. As a result, she gets locked out in her pajamas; instead of wallowing, Hannah takes initiative and reenters the property through a window. The drummed sequence concludes with her sleeping in her bathroom.
The bat commotion results in Hannah sleeping in, which leads to her riding her bike in her PJs to meet her Fiction Workshop. She joins a small, diverse group of classmates, who are giving praise to one of the aspiring writers. Hannah is characteristically awkward, giving poor feedback. Then it is her turn to share her piece, and she prefaces her story with a very Horvathian speech that seems to rub everyone in the room the wrong way. Once she finishes reading, her schoolmates proceed to do a gang take-down on her writing. It's another meta moment for Girls. This notion is reinforced when it is brought up that it is difficult for everyone to give Hannah notes since they feel the character in the story IS her. They quickly draw parallels, in spite of the instructor advising to treat the paper as fiction. Then another meta moment strikes, blatantly so, with the declaration that the story Hannah presented shows her voice, that is who she is, and that voice can't be squashed.
Hannah has a hard time with the workshop. She cannot keep quiet, which is natural; she might be in Iowa, but she is still Hannah Horvath. Basically, the group is collectively implying "you are not that special, your work is not all that." Like a child about to through a fit, she tries to defend herself, without abiding by the rules of workshop, which, once more, rubs everyone the wrong way. If there was ever any questions as to why the show is called Girls and not Young Women, we get affirmation.
After the brutal criticism, Hannah finds out that her bike has been taken. Yes, in Iowa. Even though she had initially announced she would go "home" to metabolize the notes given to her, being bike-less works a segue: she attempts to hang out with a group from her workshop, yet she fails to bond with them. She doesn't really listen to feedback on social etiquette, and she even patronizes one of the other females in her group.
Homesickness strikes. Hannah calls Shoshanna, who is alongside Jessa, watching a movie. Since she is calling from a payphone, the collect call confuses Shosh, who barely registers what is going on and continues to watch the movie. Both for her and Jessa, the phone call attempt is not worrisome; it's just "a bunch of zeros." In my opinion, that was a perfect illustration of their generation.
Unable to speak to her friends, Hannah calls her parents, who, in the midst of a Scrabble game, quickly accept the charges. They obviously know what to do. In another typical Hannah-ism, the new Iowan tries one of her manipulative moves by asking her mother if it is normal for her to have suicidal thoughts. Not caving, Loreen Horvath says it is. The response was so fast and so organic that it hit the nail in the head. Narratively, it proves that Hannah plays the same game over and over, yet Mamma Horvath has her number down. Not wanting to keep enabling their daughter, and more preoccupied by their Scrabble date, the Horvath parental units tell Hannah they will talk to her later. This is the third time in a row that Hannah fails to get the attention she seeks.
A defeated Hannah finds the door of her new home ajar. After voicing empty threats towards her potential home invader, a naked Elijah greets her, and the encounter is just what Hannah needed. Also, as usual, Elijah is a stellar as can be. He is fast becoming one of the Girls MVPs. After cheering up his friend and having every funny line landing to perfection, Elijah is the perfect bridge to a proper welcome for Hanna, as they dance, drink, and entertain together in "foreign land" at a random house party for the first time. To summarize the events, Elijah also gets some boy action, and Hannah tries to provide relationship advice to a girl who is, too, going through the beginning stages of a long distance relationship (and of course she projects). Hannah also participates in an impromptu wrestling match against another girl in a kiddie pool, still wearing her dress, and soaked in what can only be described as "Smurf blood."
The next morning, a blue-ish Hannah, wakes up a passed out Elijah, and together they walk on the green grass of the campus. Their first (proud) walk of shame.
I fall short when I state that I just adore Girls stand-alone episodes. "Triggering" feels like the perfect short film, while at the same time, it is a perfect link between Episodes 1 and 3. Moreover, even though this is a Hannah-centric chapter, none of the girls seems particularly interested in her new developments. As the representative of the so-called "Me Generation" that Hannah is, she seeks for the attention she is not getting. The contrast between the core concept of the episode setup and the execution is fascinating. At the same time, Jessa, Marnie, and Shoshanna can react coldly to Hannah's new life; however, she is the one facing the most potential at moving forward. It doesn't matter how you slice it, Hannah made it to grad school, while Marnie is lusting after a guy who is already in a relationship, while and Jess and Shosh are somewhat stuck as well. As far as we know, there have been no other developments in their respective lives. Hannah, instead, is tackling a new challenge. And was at least bold enough to move to Iowa.
Highlights:
– Hannah repeating over and over that she is a grad student is endearing. I can't decipher if she is just showing off, trying to awkwardly make new friends, or if she is just saying it out loud in an effort to convince herself that it's real. It's happening, she is in Iowa, and she is a grad student. A reality that she is embracing. Maybe.
– Every word coming out of Elijah's mouth was a treat. I did end up wishing there was more of him sprinkled throughout the episode, though.
– The previous episode was, in my opinion, about mothers/maternal figures and how they impact the identity of the girls of Girls. This episode was about the give and take and how identity at its core shows up. Patterns emerge, old habits resurface, shifts are made. New chapters start, standstill points are met… even by physically moving, Hannah is still as true as a character, as loyal to her own voice, as we saw in the first season.
[Photo via HBO]