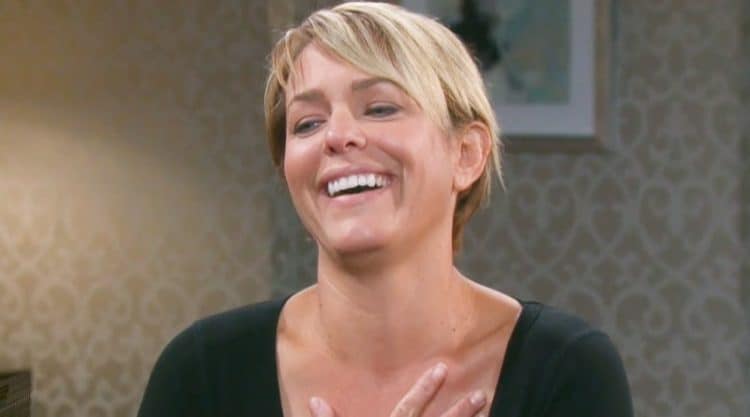 Days of Our Lives fans are getting to know Kristin a bit more now that she's back and she's making such a mess of the lives of everyone in Salem. She's a character who tends to come and go. She'll be here long enough to try and kill someone, ruin a life, take something that she cannot return to someone else, or whatnot, and then she will disappear from their lives and she will leave them all behind feeling horrible and upset by her actions. She's very predictable, but we don't know when she'll leave, when she'll come back, or what she has planned when she does come back. She was not someone we thought would come home and put on the face of an entirely different character to live as her for so long, but she did it. And now we want to know more about Kristin DiMera and what she is like. What's her story? What makes her tick?
She's Been Around A Long Time
She's a character who has been around a long time, and she's a DiMera. You'd think that this would mean something a bit more to her, but it does not. She's got more issues than most people do at this age and time in their lives, and she lives to see other people feel miserable and unhappy with their choices. She's got a lot going on in her life, and she's not someone who will ever change her ways. She's been around since the early 90s. She came into town as the not-legally adopted daughter of Stefano DiMera after her own parents were killed. He never made things legal or official, but he did consider her — and her brother — his own. He had a few kids already, and this made things a bit complicated for all of them.
She was Originally Another Famous Face
When Kristin first rolled into Salem so many years ago, it was with a very recognizable face. And, for once, it was not a face she had to steal from someone else to get her life to work out for her in the way she wanted to see it work out. She was here for the first time in the history of the show being portrayed by Eileen Davidson of Young and the Restless fame. She stuck around for five years in this role, too, which is a long time for someone who was working so hard on a different role in a different location. It was such a good thing for her, and she did an amazing job of bringing this role to life when she came into the situation.
She's Got Help
This time around, she's got more than a little help. For one, many people thought she was dead. She was killed in a fire and she was not able to move on and keep making people miserable, and we know that is not the truth. In fact, she is alive and well and happy to be in her situation. She's got help from her brother, Stefan, and from Xander. They've worked together more than once in the past, and they prove to be a very good team when they are working together. Except, of course, when she's not working with him and she's actually working against him. This time, they are not on the same page at all.
She Defies the Odds
No matter what happens to this woman, she manages to find a way to make it out of every situation with something intact. She's lived through fires, murders, disappearances, horrible hostage situations, and so much more. Nothing, it seems, can take down this woman and make her a woman who does not need anything outside of her life. She's going to come back every single time. She's got the help of her brother, Stefan, right now, and he doesn't even know that this is his sister who is hiding behind the face of Nicole. He's unaware, but he will help her when she needs it. Although, we do wonder if, when he finds out she's been doing this, he will help her again. It might be the turning point for him in her life.