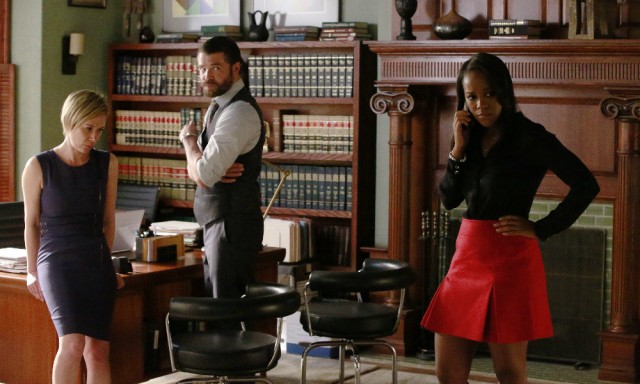 After all of the ups and downs this season, the end is finally here. Let's take a look at what happened in the How to Get Away with Murder season 2 finale, "Anna Mae."
I'm not going to actually recap the episode this week since it's the season finale, and I'm going to instead talk about broader themes and aspects of "Anna Mae."
As you can tell from the episode's title, "Anna Mae" is, largely, about Annalise. Viola Davis has consistently delivered throughout the entirety of How to Get Away with Murder's run, and that performance only intensified during the second season. "Anna Mae" is no exception, and both the performance and the character's story were strengthened, just like last season, by the addition of Cicely Tyson (off-topic, but how crazy is it that Cicely Tyson is 91 years old and STILL delivers performances this strong??). Annalise's past and the decisions that affected her evolution into the character she became have been major focuses on the latter portion of this season, and the exploration through this past has been wonderful to watch play out. We got to meet even more of Annalise's family in tonight's season finale, and their personalities serve as a nice contrast to the aura that Annalise projects in her daily life.
In many ways, "Anna Mae" and, in hindsight, the second half of this season have been just as much about Frank's progression as it was about Annalise's. Charlie Weber is one of the most underrated actors on How to Get Away with Murder, and the closer look at his growth into, for lack of a better word, a monster has been phenomenally written and performed. Frank is so much more complex of a character than we've been led to believe at times throughout the show's run, and it's been great seeing this complexity in a stronger light.
The story of the siblings accused of killing their parents was wrapped up in a wonderful way, and the conclusion to the storyline was shown to have been in play for a while now. Again, I'm not going to recap the actual events, but I ended up being way more satisfied at the way it wrapped up than I could have ever expected.
As a whole, the second season of How to Get Away with Murder wasn't perfect. It had a ton of ups and downs (and many more downs than the first season did), and there were times (especially during the first half) that the plot seemed to be meandering to a place from which it couldn't easily recover. No matter what happened through most of the season, though, "Anna Mae" was as close to perfect as it could be. Everything came together perfectly, and the performances completely captured the range of emotions required. Moreso than last year, I absolutely can't wait for How to Get Away with Murder to return for season 3, and the possibilities for the progression of the story are almost endless.
What did you think about "Anna Mae?" What's your opinion on the second season of How to Get Away with Murder as a whole? Let us know all of your thoughts in the comments down below!
[Photo Credit: ABC/Mitch Haaseth]
How to Get Away with Murder Season 2 Episode 15 Review: "Anna Mae"
Summary
How to Get Away with Murder's second season ended in an absolutely perfect way with the show's best episode in quite some time.