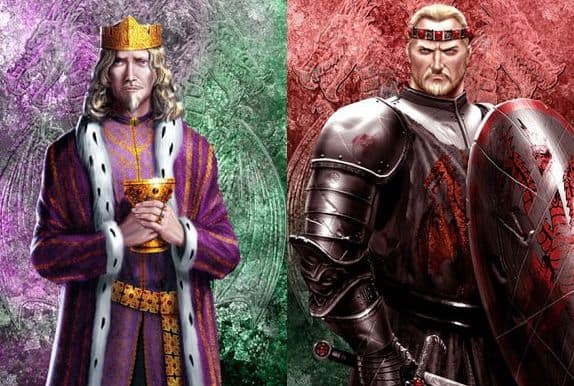 Last week fans discovered that Game of Thrones author George R.R. Martin would publish a new story in 2018.  The story is apparently set in the world of his A Song of Ice and Fire novels.   According to Comic Book
The new story will appear in The Book of Swords anthology, edited by Gardner Dozois. Just like "The Princess and the Queen in the Dangerous Women anthology and "The Rogue Prince" in the Rogues anthology, Martin's own story will be the only one in the anthology with a connection to A Song of Ice and Fire and Game of Thrones.
Like "The Princess and the Queen" and "The Rogue Prince," the new story, titled "The Sons of the Dragon," will be an excerpt from Fire & Blood, a fictional history of House Targaryen that Martin hopes to publish once The Winds of Winter and A Dream of Spring have been published. "The Sons of the Dragon," like the other stories, is made up of historical information that had to be cut from Martin's first historical tome, The World of Ice and Fire. Specifically, "The Sons of the Dragon" will chronicle reigns of the second and third Targaryen kings, Aenys I and Maegor the Cruel, as well as their "mothers, wives, sisters, children, friend, enemies, and rivals."
OK, this is a lot to take in folks.  It's only February and we know that Game of Thrones isn't even going to appear until June.  Maisie Williams also admitted that Game of Thrones will have a huge cliffhanger this season.  It's very hard to determine where we can even start.  But let's try and dig into this just a little bit.
First of all, "The Sons of the Dragon" is such a simple yet awesome name that clearly a movie or TV show is going to come of this.  Does this mean that Game of Thrones is going to end in 2018?  Certainly a possibility right? And then we move right into the "Sons of Dragon" spinoff.
In other news/thoughts, has Martin stepped outside his house in the last 5 years?  Seriously this guy is a writing machine.   Yes I know he's been at panels and been out and about but where does this guy find the time?  All I can say is as soon as "Sons of the Dragon" is released it's going to be bedlam and a whole new series might be upon us.
"Those of you who enjoyed 'The Princess and the Queen' in Dangerous Women and 'The Rogue Prince' in Rogues  will probably like this one too," Martin writes of "The Sons of the Dragon" on his blog. "It's water from the same well. A history rather than a traditional narrative. A lot of telling, only a little showing. (The opposite of what I do in my novels). But if you're fascinated by the politics of Westeros, as many of my readers seem to be, you should enjoy it."