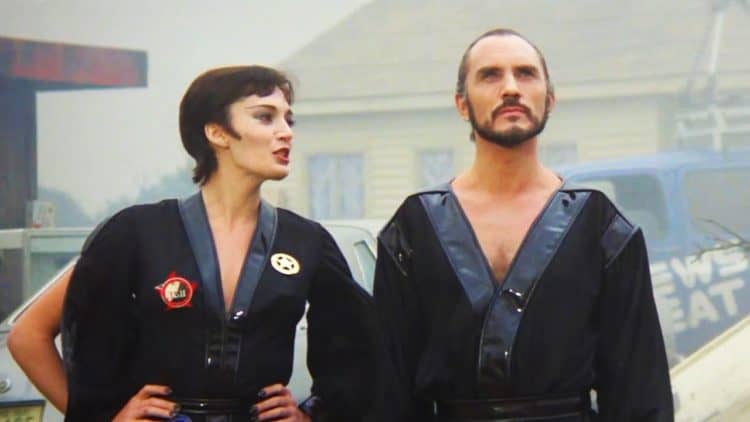 Superman killing General Zod in the end of Man of Steel caught many fans off guard. Some thought it was a good move and others didn't. Personally, I thought it made sense and I'm glad Zack Snyder was willing to take that step. And I can go on about how great Henry Cavill's acting was in that scene alone. I also think that one scene was a good set up for a sequel to Man of Steel, which is long overdue. Does anyone else still want that to happen? If not that, then at least give us more Henry Cavill, because his story is not done. Not by a long shot. He was reported to come back based on some reports from last year, but we haven't heard any concrete news since then. Speaking of that, if you Superman fans out there are still pulling for Henry Cavill's return, did you really expect his first enemy to return? I'm speaking, of course, about General Zod, the extremist Kryptonian military commander, who was played brilliantly by Michael Shannon. Seriously, if you're not familiar with his career, you need to check him out. The man is criminally underrated and back in 2013, he got his shot at playing a supervillain. And kudos to Zack Snyder, this casting was spot on.
The way Michael Shannon played General Zod in Man of Steel was conflicting. Yes, he was a villain who was willing to destroy Earth and everyone in it, but it wasn't out of hatred or domination. His primary goal was to save what was left of his destroyed planet and rebuild the Kryptonian race from the ashes. Was he truly evil? I believe one can argue that he isn't and it's because of his desire to save his people. And after Superman destroyed his ship carrying what was left of the Kryptonian race, the pain in Zod's voice was real. All he had left was destroying Superman and the planet he had come to love. That was probably Michael Shannon's best scene as General Zod and his climactic battle with Superman reminded us why he's one of his greatest villains. And as we all remember, his subsequent death scene at the hands of Superman caught us all of guard. If you thought he was going to come back, tough luck. Lex Luthor used his body to create Doomsday (or a Lord of the Rings troll) in Batman vs. Superman. Well, I guess that settles it. Apparently Michael Shannon would never reprise his role as General Zod. Wrong! According to the actual Warner Bros. website on their 2022 movie preview release date page, two curious names were listed on the cast list for The Flash movie. Those names are Michael Shannon and Antje Traue.
Oh yes, that is correct. Michael Shannon will be reprising his role as General Zod and Antje Traue will be reprising her role as his second-in-command, the deadly Faora. As if Zod coming back wasn't cool enough. Before Superman had his big showdown with General Zod, he actually got his red cape handed to him by the deceptively powerful Faora. Seriously, their fight scene in Smallville was all kinds of epic and Faora cemented herself as a serious threat. When she came on screen, she literally tore through people with ease and was totally on board with her commander's extremists views. Did she actually die or did she go back to the Phantom Zone? I'm guessing the former, but that might not even matter when we watch the Flash movie. First of all, just the idea of General Zod coming back gets me pumped. But to see Zod and Faora coming back raises all kinds of questions. If those dead characters are returning, then who else could we see make their return? I mean, the fact that Michael Keaton is coming back should mean all bets are off. However, we had every reason to believe that General Zod's time in the DC Cinematic Universe was over. But who are we kidding? This is the realm of comic book world where anything can happen and that's the greatest thing about it. My next big concern is the manner is which they are coming back.
So first of all, we should ask ourselves if these two characters have a place in the upcoming Flash movie. What can they possibly do? Well, we all know who will be fighting alongside the Flash in this movie and she has a close connection to both villains. Kara Zor-El, better known as Supergirl, is the cousin of Kal-El and will be making her debut in the DCEU in the Flash movie. That's some exciting news, because I predict she'll have a role similar to the Flashpoint Superman. But if Superman won't be in the Flash, then there has to be another Kryptonian powerhouse in the room. And this one has yet to have met General Zod. How would this interaction play out? In the comics, Kara's father is the younger brother of Jor-El, the father of Kal-El. Unlike her baby cousin, Kara was old enough to see the destruction of Krypton. To save her life, Kara's parents had her escape the dying planet in a small ship. Although she is much older than Kal-El, the time she spent drifting in space and being kept asleep in her ship allowed her to maintain her young appearance. Therefore, she has memories of Krypton long before it was destroyed. And because of that, it's very possible she knew who General Zod was before the destruction of Krypton.
This is definitely something to think about. General Zod and his entire battalion spent decades searching for Kal-El and during that time, Kal was still trying to figure out who he is. That wouldn't be the case for Kara, since she was old enough to know what was going on before Krypton was destroyed. She might not have met General Zod, but it's likely she heard stories about him through her father or her uncle. Needless to say, they probably weren't good stories and she wouldn't exactly see him as a hero. And once she learns he's responsible for the death of her uncle, that will surely spark some conflict. That would be another epic fight to see and on top of General Zod, she'd have to contend with Faora as well. There are a lot of possibilities to consider based on this news. Maybe this won't be the same General Zod and Faora we've already seen in Man of Steel? If that's the case, then it would just be cool to see them again. I personally think they'll be the same characters we've seen before, but who know? There are a lot of crazy things happening in the DCEU right now and I'm itching for more news. Are those the last two familiar faces from the past we'll be seeing in the Flash? I don't think so. What are your thoughts, DC fans?
Tell us what's wrong with this post? How could we improve it? :)
Let us improve this post!