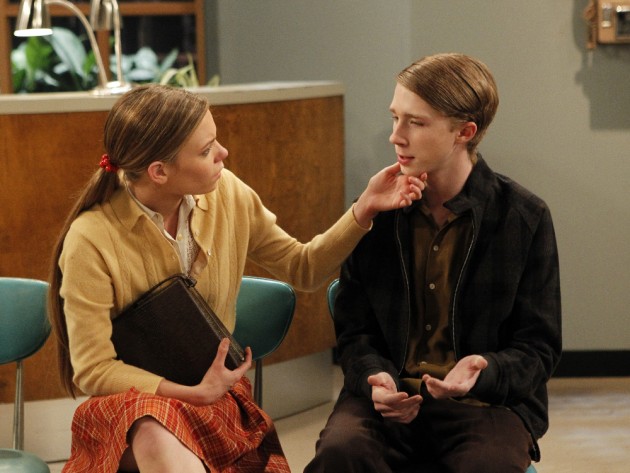 As a soap fan, I thought General Hospital's 52nd Anniversary episode deserved some recognition. Today not only paid homage to the stars of the past who started a legacy, it also provided long-awaited answers about what caused the show's most celebrated and recognizable character to break with reality. So the event which caused Luke Spencer to change so drastically was retold by older sister Patricia Spencer, portrayed by guest star Dee Wallace, and played out in black and white on the screen as Luke's memories.
Today's episode was unique in several aspects. Firstly, the majority of it was shot in black and white, quite literally transporting fans back 52 years. Jason Thompson, who currently plays Patrick Drake, took on the role of legendary General Hospital doctor Steve Hardy, Elizabeth Webber's potrayer Rebecca Herbst took on the role of Jessie Brewer, and Ryan Carnes took a break from playing Lucas Jones to instead play Jessie's husband, Dr. Phil Brewer. Those three were the initial characters who created a legacy that would last long beyond their own lives, which is why it was beautiful to see the actors John Beradino, Emily McLaughlin, and Roy Thinnes honored in this way.
General Hospital's current stars also took on roles which directly impacted today's storyline. Laura Wright took on the role of Lena Spencer, while Anthony Geary pulled double duty once again in the role of his counterpart's own father, Tim Spencer. Geary has proven in the last two years how good he is at playing the villain, and so he slipped easily into the role of the late father Spencer. Drunk, racist, and abusive, Tim Spencer did a good job of trying to destroy his family, and Lena was the abused housewife who could only protect her children so much.
For the nearly 40 years that Luke Spencer has been on the screen, the story of his early years has been that Tim Spencer was an abusive man who beat his family, and when his wife died of an appendicitis, he ran off, and older sister Patricia disappeared as well. Long-time audiences know that Luke and younger sister Bobbie then landed in Florida, tangled up in a brothel, before eventually making Port Charles their home for the next few decades.
What has made Luke Spencer the legendary character of General Hospital has been his teetering act between beloved character turned patriarch and a tortured man. He has a loving wife and three children, was one half of the most legendary soap couple in American television history and has had moments that earned portrayer Anthony Geary a whopping seven Daytime Emmy Awards (and counting). For the past two years, long-time fans noticed a change in Luke that has resulted in a series of twists and turns only a soap could provide. When the show revealed a few months ago that the heinous acts that Luke was carrying out were not in fact done by an imposter, but by the one and only Lucas Lorenzo Spencer Sr., that's when fans were really shocked.
I personally can count on one hand the number of times a soap opera's storyline has genuinely left me speechless. Especially in today's television where so many show's combine storyline twists with special effects and stunts to draw in audiences, a good soap storyline is made on the quality of the acting. Geary has proven in the past why he has earned his seven Emmys. It takes a special actor to portray the types of storylines Geary has, such as the infamous rape storyline in the '70s that started Luke's introduction to the show, and the 2011 storyline in which Luke Spencer accidentally killed his own grandson in a hit-and-run. It takes a legend to portray those storylines in such a way that the audience doesn't hate Luke Spencer, but instead still embraces him as the strong, yet slightly broken, man he has always been.
So it is only fitting that in honor of this character and the soap itself as a legacy, the show went back to the beginning, to the initial horrific act that caused Luke Spencer to have a mental breakdown. On Wednesday's episode, Luke finally remembered the memory he blocked out, that he killed both his mother and his father in the same night. This is the devastating event that tore the Spencer family apart and the reason that in the back of his mind, Luke believed he would become even worse than his father. Yet the man who crumpled to the floor at the end of the episode sobbing "I'm so sorry" has never been seen purely as a monster, just a broken and beloved man whose deepest demons have finally caught up to him.
[Photo via ABC]
Tell us what's wrong with this post? How could we improve it? :)
Let us improve this post!