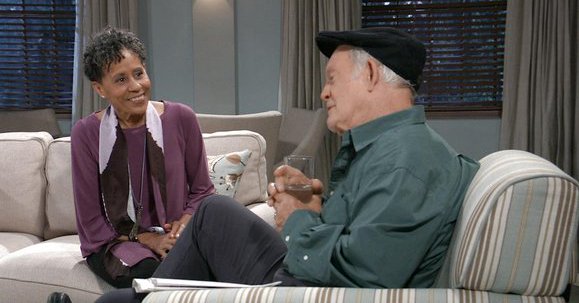 General Hospital fans know that Hayden makes mistakes in her life, but how bad are the mistakes she is making in her life? She came back to town and kind of thought things might go a different way, but we think that she's not going to have much else to do in her life other than focus on what is going on now that she is back — and how different all of that is than what she thought might happen when she was living her life otherwise. She's making huge mistakes in her life, and we all know it. We know that she is not who she needs to be. She's not doing what she needs to do. She's not living her life the way that was meant to be lived, and she's shocked how people have reacted to her return after her sudden disappearance.
Then there is Julian, who is not happy with his son and his husband, which means he's going out of his way in every capacity to make sure that they suffer significantly. We aren't thrilled with it, of course, but we do know that they have a lot more to work on that they thought they did in any other capacity. They are in the middle of some things that are not going to go well for them, but we cannot help but wonder how else they can focus on what is going on in their lives. Can they make this better? Can they change their situation? Can they see if things will work out that are better than they are not? Can they make this happen in their lives, and can they work through the truth with this baby drama comes out? We don't think they can, honestly.
What's Happening on General Hospital
Nina reveals herself to Jax! @watroswatros @IngoRademacher @GeneralHospital #GH

— Frank Valentini (@valentinifrank) November 22, 2019
Very dangerous for her.
What's Next on General Hospital
"The clock's ticking… it's going to get unpleasant." #GH pic.twitter.com/8OCH3tK2Ke

— General Hospital (@GeneralHospital) November 18, 2019
Valentin is a man who will always look to learn more, do more, be more. He is always on the top of the game that he is playing, and he is going to find out some more information today that he did not have before this. He is not sure how to function with this in mind, but we do know that he is going to work on making a change or two that might allow him to figure things out. He does feel as if he is winning at life right now. He got Nina back. He got Charlotte back. He's living the life he was meant to live, and he's looking hard to make sure that this does not change for him, and we get it.
There's also a lot happening right now with Laura, who wants the best for her family. She's in a place right now she never thought she would be in, and she's not sure how to function. She wants her family to be happy. She wants them to live their best life. She wants them to be the best of the best. She is looking for more than they are giving her right now, and she's not sure how her son being back from the dead is making waves in her life. We are still confused by this, too, but there is little we can do to change that. Furthermore, we will see residents of Port Charles start their Thanksgiving preparation, and we cannot wait to see how that all goes down. It should be good.
Stay tuned for more General Hospital and be sure to check out TVOvermind daily for the latest General Hospital spoilers, news, and updates.