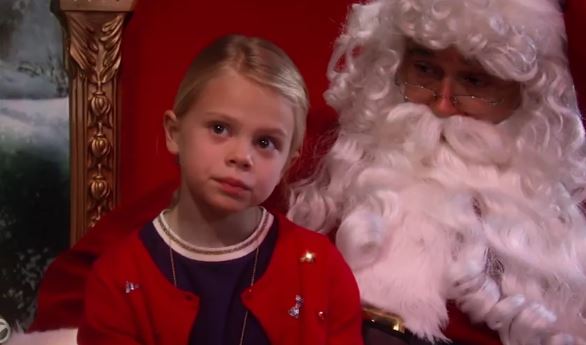 General Hospital fans are all excited about what happened yesterday when an old episode of the show aired. It was from 2005, which made us all go back more than a decade. Things were so different. The characters were different. The people were different. The people who are still here were so different, and the people who aren't here yet were thought of many times when things occurred. It was a much different time, and it's obvious that a lot has changed over the past 13 years. However, we want to start this by wishing you all a very Merry Christmas. There is not General Hospital today- at all — because sports will preempt the entire show and allow people to spend a bit more time with their loved ones.
Recapping the Show Lately
Things won't be long forgotten by the time the show comes back on tomorrow, but we know that there is a lot you want to remember since it's been days since you've seen it all to begin with. One of those things is the fact that there are a lot of people who are not living their best lives. Mike is not well. Sonny and Carly are not well with one another. Kiki is gone, Ava is a mess, Griffin is a mess, and everyone is suffering in so many ways. Nina has given Valentin another chance, Charlotte and Aiden are dealing with some problems that are very childlike in their own minds, but very serious nonetheless. And it's all just a situation. But there are more people here who are unhappy than happy.
Sam has a serious stalker and cannot figure out who it is. Oscar's health is not good, his mother cannot spend much time with him for fear of being alienated, and she's got serious feelings for Drew despite being with Julian, who would probably rather be with Alexis himself. That's a lot to take in, right? But the good news is that there is a chance that Michael will soon find out that his son is not dead, but alive and well living with Brad and Lucas. He will eventually learn this, and it might jut be the kind of news that this family needs to move on from their life issues. And we can only hope that they can.
And then there is Kiki. There's not much going on here other than the fact that she is not coming back and a murderer needs to be found. There needs to be something that works for them here, and we cannot figure out what will happen.
What's Next on General Hospital
We know that there are many things that do make a big difference in the lives of the people who are here and well, but things will take a very drastic turn after this beautiful holiday. There will be some very interesting stuff going down with Ryan and Kevin and the torment that he is going to show to his brother. There will be more sadness with everyone who is missing someone, and Lulu has some information she's looking to share with Laura. Will that information make a difference in the way that Laura views her life and what is going on in it right now?
The rest of the week is not here yet, and things will not be new today. However, the show is back on tomorrow, the people of Port Charles will continue to figure out their lives and make things happen as they can, and we can just sit back and look forward to that. Until then, enjoy your day, your life, and everything that goes along with that as you celebrate this beautiful day. Focus on your family, and spend the day making the kind of memories that just warm your heart in every way.
Stay tuned for more General Hospital and be sure to check out TVOvermind daily for the latest General Hospital spoilers, news, and updates.