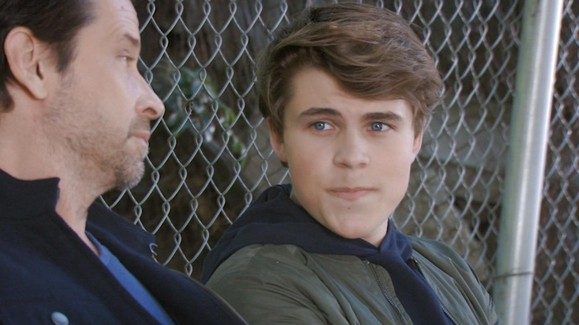 General Hospital fans are worried. When Julian is worried, we all worry. He's got a lot to worry about, too. He's got to worry about what is happening in Port Charles, with his son, with Sam, with Alexis, and with the Corinthos family — who is not happy with him. They are not the kind of family you want mad at you, and that's a situation you cannot control. However, there's a lot that might just work out for him if he can find a way to get back into their good graces. This might not be very easy, at all, but we can think of a few other ways to see if we can make this happen. For now, though, there is very little we can hope to accomplish here. He's got issues, and he might not be able to resolve them quickly enough to get what he's looking to get.
On the other side of things, we also know that Finn feels that his friend might be in trouble. Call it a sixth sense, or whatever, but we feel that he is right. There's a lot going on right now that is not good news, and it seems that many people might be fighting over things that aren't always their main concern. On the other side of things, Curtis is looking to learn as much as he can about Taggert. This is going to be a problem, and we can feel it. But, he's going to start asking some questions that might end up going to the wrong person, and that might put him in more danger than he cares to admit. There's still some serious unknown going on here, and he's got to learn as much as he can — but he knows that this might put him in some danger.
What's Happening on General Hospital
Sam wants to help Molly find TJ, West Coast. Is she willing to break her parole to do it?
A brand-new #GH starts RIGHT NOW on ABC! @kellymonaco1 pic.twitter.com/RSdAE13VEx

— General Hospital (@GeneralHospital) March 30, 2020
What is she up to?
What's Next on General Hospital
"This is hell… I can't do it." #GH pic.twitter.com/ahlAvVIP20

— General Hospital (@GeneralHospital) March 30, 2020
Brando has been causing some serious issues lately as he is not sure he can do what he is supposed to do at the encouragement of Sonny. He is not sure he can make things happen or that he can do what he is needed to do, but he's doing it anyway. He's working very hard to get things to work out in his favor, and he's doing something interesting. He's going to show Carly his softer side, and that might change the game a bit. But, we aren't sure if this will change it in a good way or not. She's going to see this, and she might just see that he is nervous and scared, and that might make her want to interfere with this on his behalf. That cannot go well, and we all know this is true. If she gets in the way of anything Sonny is doing, it will never go well.
Then, there is a lot going on with Trina. She's not happy. She is going to overhear something that will make her feel a lot of anger. She's so young and still so immature, so we can only imagine what she is going to overhear. She's got her own issues to work through, but we cannot imagine what they are and how they will work in her favor. There's so much happening right now. On the other side of things, we also know that Nina is still spending time with Charlotte, which is also amazing. We love that she is going to get to spend time with her.
Stay tuned for more General Hospital and be sure to check out TVOvermind daily for the latest General Hospital spoilers, news, and updates.