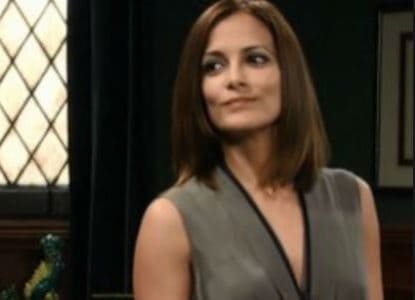 General Hospital fans have been hearing for weeks that one character is leaving, and it turns out it's a true story. Hayden is slated to exit the show. Rebecca Budig is not going to stick around much longer, and we don't know how she will go. She's pregnant in the show, and she and Finn are having a baby. She's had a lot of health issues for a while now, and we can't wait to see what might happen in this role.
Is she going to die giving birth to a baby that Finn will have to raise on his own? Will someone kill her? Will her disease return? There is so much that might happen here, but we know something will happen. She's leaving, and there is no chance she's sticking around. She'll be here through the rest of summer, but that's about it.
Is there another chance that Hayden might stick around? Someone else could come in and portray the character, but she doesn't seem to have enough of a following or a story line these days to make that happen. We predict this character is just done. There is no telling what else might happen, but we do know she's out and that no one is going to take over her role as this character. She's not going to be here, and we think it'll be a dramatic baby birth death that takes her life. And after all the times she was already close to death, this would be what takes her.