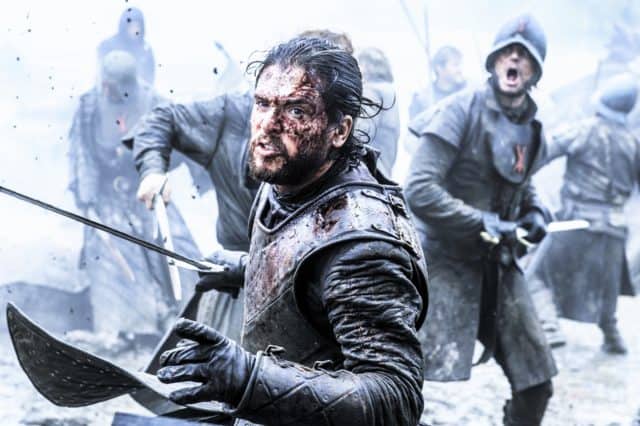 Game of Thrones fans need to start being impressed even if they can't see the result of the longest battle shoot being filmed in the history of the show, or of TV even it seems. The cast and crew have gone through an astounding 55 days and nights shooting in 3 different locations under the kind of conditions that might send anyone else scurrying for a trailer or at least cover from the weather. And they've done it for the glory of being able to show the fans just how dedicated they are to the craft that they've chosen. So honestly GoT fans, you need to bow your head in thanks to these people when the show comes back next year, and at least grant them a nod of sincere respect at this point since they've done a lot to entertain us thus far.
Through all the bickering and the crazed theories and arguments about what should happen versus what did happen, people really need to take the time to realize just what goes into the process of creating a show such as this. GoT is not the kind of show that skimps on anything it would seem, and the entertainment that's derived in just a few minutes' time usually takes days if not weeks to accomplish. The setting, the actors, the effects, and even the animals involved have to be just right or things will go off the rails and the production will halt until they can find a way to make it right again. They do it because they enjoy the job and because they're looking to keep their fans. Of course they do it for a paycheck too but that usually seems to come last with many people since the enjoyment that comes from working on a set like this isn't the easy thing that a lot of people would be willing to do for the promise of payment afterwards. This is something you have to love doing, and there's no doubt that every person on the set has a great amount of love for their part in this epic story.
As of now they've finished filming the longest battle scene ever, and they had to do so in conditions that were less than accommodating at times while taking the time to get it right as they did it over and over to make sure the choreography looked okay, the motions of the actors were in sync with what was needed, and of course the animals that were involved were given ample training and patience to get the shot right. In other words they had to act as though they were making a full, feature-length movie for each episode as it's already been detailed, but in much less time than a feature would receive to finish for each episode. This means that they are working long, hard hours in order to get this done the way it needs to be for the enjoyment of the fans.
Think about that when you sit down to watch it next year.