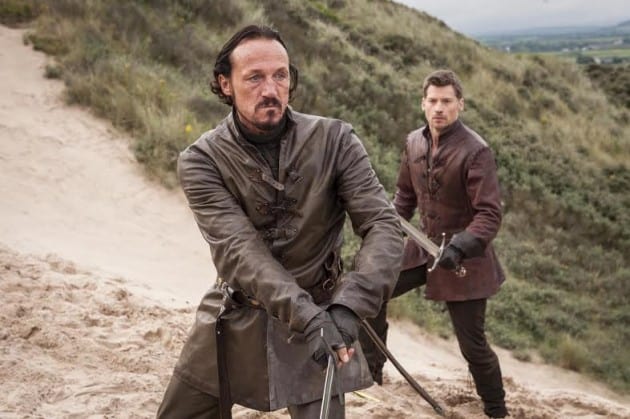 As small councils grow smaller, and men begin new journeys across the terrains of Westeros, "Sons of the Harpy" marks an important change in tenor for Game of Thrones; that is, the slow tides of the first few episodes are giving way to stormier seas, as the next phase of alliances and vengeance start to take form. The arrest of Loras, the death of Barristan, the appointment of the High Sparrow as the head of the Faithful Militant: these are not the signs of a world in flux, but a landscape of coiled tension ready to spring to life. Propelled by a number of fantastic character scenes, the devil is in the details of "Sons of the Harpy," presenting a number of important dramatic escalations that look to really kick the next act of the show into action.
The idea of 'tradition' reigns supreme in "Sons of the Harpy"; whether it's those trying to break out of the chains of history like Dany, or others pledging allegiance to their vows and gods. Game of Thrones is ultimately a series that embraces Dany's point of view, but no change in Westeros comes without bloodshed and resistance. Look at what adherence to tradition got the Stark family – or going back even further to Petyr's stories, what can happen to a world when love stands above assumed traditions and loyalties. Dedication is as powerful as it is intoxicating, as dangerous as it is inspirational, and whether religious or political conviction, there's a world of people always threatening to take it away, corrupt it – or straight up destroy it, in the case of the High Sparrow and the Sons of the Harpy both, warping the idea of "tradition" into something more slightly more sinister, if equally self-serving.
"Sons of the Harpy" presents countless examinations of this, beginning with Tommen's lack of maturity and power leading him to be ridiculed, and become a victim of the power struggle between the two queens in the capital. Furthermore, his own kingsguard is being usurped by the revival of the Faithful Militant, raised by Cersei to maintain control as Margaery and the Iron Bank alike threaten her legacy. Alone in King's Landing, Cersei has taken a desperate turn, looking to those who condemn the homosexual and incestual for help – which is probably a bad idea, considering she just sent her brother to go save their love child in Dorne, a power play that looks to be headed equally to disaster, ominous events hinted towards with the clear shot of Bronn stomping out the dying embers of a fire on the Dorne beach they wash up on (in other news, Jaime realizes he has a gold shield for a hand now, which can be useful in battle).
Most would argue a massacre isn't a sign of good things to come; something Dany must be agreeing with, now that her own small council has grown smaller – though not by choice, with the Sons of the Harpy murdering Barristan and Greyworm in a claustrophobically epic fight scene at the episode's close. Either way, it appears heeding the warnings of tradition bring nothing but nightmares to those in power around Westeros – or in the case of Jon Snow, denies him any attempt at the pursuit of happiness. Yet it's those breaking tradition that are succeeding, or at least appearing to: in the episode's most humanizing moment, Stannis describes going against the treatment of a child with gray scale when his daughter Sharene was poisoned by a toy salesman. Instead of sending her to live out her life with the stone men, he saved and protected her. It was breaking the shackles of standard thought processes that allowed him to forge a relationship with his daughter – and at the same time, embracing another pair presented to him by Melisandre, the illusion of power standing as the ultimate corruption to all (and why, as the leaders of the humble Night's Watch, Jon stands as the least corruptible figure of them – that, and his dedication to his own broken heart).
That thematic unity always make the continent-spanning stories of Game of Thrones feel much closer in proximity, even if only in spirit – and it drives the episode, carrying emotion over from scene to scene, building until the final moments, when everything is shattered by the dissenters in the shadows (the very same shadows that Melisandre speaks of?). The deaths of two minor characters is not really the driving force of emotion behind that final scene; it's watching the world's grip on peace slowly slip away, leaving behind a desperate series of power structures clinging to something they can mobilize and conquer with. Everyone's got their motivations, but more importantly, everyone's got their maneuvers, something Petyr explains to Sansa before he leaves Winterfell to head back to King's Landing (where he'll find out his brothel is a murder scene, and Cersei is up to nefarious things).
Petyr and Sansa's scene in the crypt of Winterfell is what ties all these threads together. Led by the tease of Sansa finding a crow feather by her Aunt Leanna, Littlefinger's speech is both a history lesson and a warning of the struggle between temptation and tradition, an important tenet of Westeros (and real-world) religions, something that Game of Thrones explores and challenges with every episode. That exploration is a bit sharper in the lens of "Sons of the Harpy," propelled by a lot of symbolic (but also very literal) deaths of those protecting traditions, and those assembling to challenge it with their own – and makes for another terrific hour of what's been a wonderfully focused season to this point.
Other thoughts/observations:
– In case you missed it, the throne is broke as a joke – the point Cersei is trying to buy time through refinancing tactics.
– Love how Tyrion rips through Jorah's entire arc on the show in thirty seconds. It speaks to his knowledge of Westeros history, as well as his analytical skills of human behavior. What a fun little scene.
– Melisandre: "You know nothing, Jon Snow."
– Stannis mentions that Ned would never have a bastard child with a whore, and there's a lot of talk about Rhaegar and Lyanna in this episode… if anyone is looking for possible context why Melisandre is really interested in Jon Snow, look no further than those conversations, particularly Petyr's reveal of Rhaeger's declaration of love for Lyanna Stark.
– Bronn totally wants to call Myrcella Jaime's daughter, but he knows where his paychecks are coming from.
– The Martell warriors get introduction by way of awkward exposition this week; hopefully, we'll see more of these women in the near future, and see their lives beyond co-conspirators against the Lannisters.
– No Brienne this week, but we did see Tarth!
[Photo credit: Helen Sloan/HBO]
Tell us what's wrong with this post? How could we improve it? :)
Let us improve this post!