In the fantasy world of HBO's Game of Thrones, the appearance of characters often deviates significantly from that of the real world. Wigs, prosthetics, and colored contacts are employed to create the on-screen masterpieces viewers enjoy. One notable aspect of this transformation is the portrayal of bald characters.
It's no secret that Game of Thrones used various transformation techniques on most of the characters. In fact, some characters were required to lose/add weight and even shave their heads clean. So, let's delve into the fascinating details of each of the bald characters in the highly acclaimed Game of Thrones.
Varys – Master of Whispers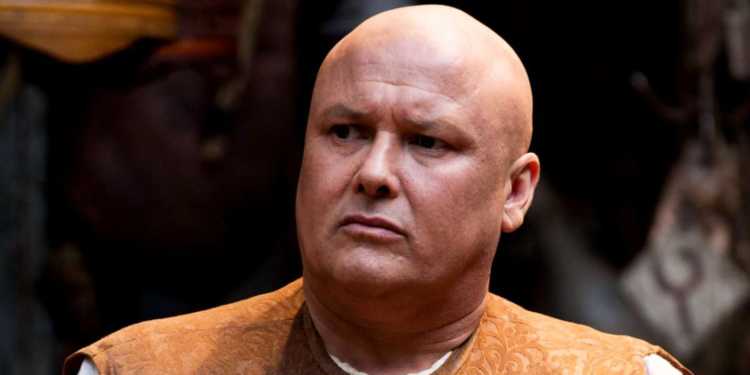 Conleth Hill, the Irish actor who brings the cunning Varys to life, undergoes a striking transformation to portray the "Spider." Unlike many other actors in Game of Thrones, Hill does not wear facial prosthetics or a wig. Instead, he dons a bald head to embody the character, which is funny because, in real life, Hill boasts thick gray hair and a mustache. This is clearly a stark contrast to Varys' clean-shaven, bald-headed appearance. Why all the fuss about a bald head? Well, Hill plays the part of a eunuch, who obviously has to look big and bald.
In GOT, Varys was supposed to be one of Daenerys loyalists; however, he soon switched to Team King Jon when he learned of his real lineage. Plus, he also suspected that Daenerys was getting power drunk. Unfortunately, he wasn't quiet about his loyalties and informed Tyrion about his support for Jon. When Daenerys questioned Varys about his loyalty, he swore that his loyalties would always lie with the people. It's ironic seeing that he once abused the vulnerable, therefore becoming one of the most hated GOT characters. Even more, he swore never to conspire against Daenerys, while she swore to burn him alive if he ever did. Unfortunately, fans saw one of their favorite GOT baldies get roasted alive by one of Daenerys' dragons. She kept his promise, while he didn't. According to Hill, he had to gain some weight and shave his head and beard every July during filming. On Late Night with Seth Myers, Hill also mentioned that the first time he learned he would have to shave his head, he actually got teary.
2. The Night King: Leader of the Undead Army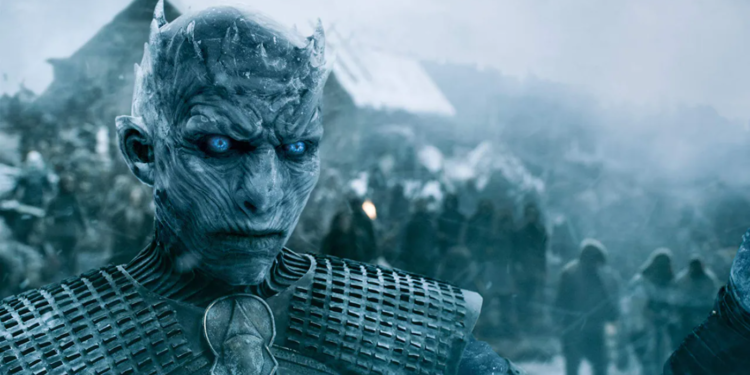 Richard Brake is the Welsh actor who portrayed the Night King in Seasons 4 and 5 before the role was recast. His character dons full-bodied prosthetics and colored contacts to bring The Night King to life in Game of Thrones. While his actual bare head doesn't show throughout the season, he certainly qualifies as one of the bald characters in GOT. The Night King's icy blue skin, eerie sharp blue eyes, and ice horns on his bald head create a chilling contrast to Brake's medium-length honey-blonde hair, fair skin, and well-defined face.
The Night King was also one of the most terrifying characters in Game of Thrones. He had the power to raise the dead and turn them into wights. Plus, there's that chilling scene where the Night King creates a Walker by marking Craster's abandoned baby and taking him to the icy alter. When Craster's son's eyes turn blue, it's' evident that most white walkers were created in the same cruel way.
3. Pyat Pree: The Warlock from Qarth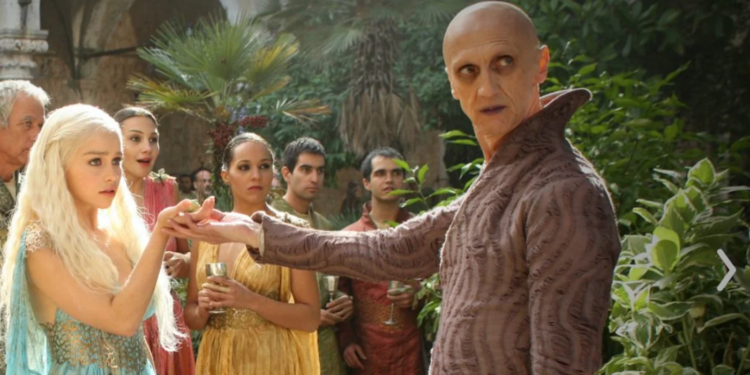 Pyat Pree is a terrifying warlock who lives in the House of the Undying. It's a house in Qarth that's home to a good number of warlocks. Of course, warlocks are no longer as respected as they used to be, according to the GOT script. Even though most people see them as cheap tricksters, there's still a governing council that includes Pyat Pree. In Season 2, Episode 5, Pyat Pree proves to be more than a common trickster by showcasing his mystical powers of illusion.
Ian Hanmore, the Scottish actor who portrays Pyat Pree, undergoes a minimalistic transformation for his role in Game of Thrones. Hanmore wears dark blue facial makeup to embody the mystical nature of his character. Still, his hair is mostly bald, even though his face remains slightly plain. His lips are also blue, and in most episodes, Pree's sunken eyes give off a chilling, sinister look. As the season progresses, Pyat Pree is revealed to be a conniving yet selfish psychopath and a cold-blooded murderer.