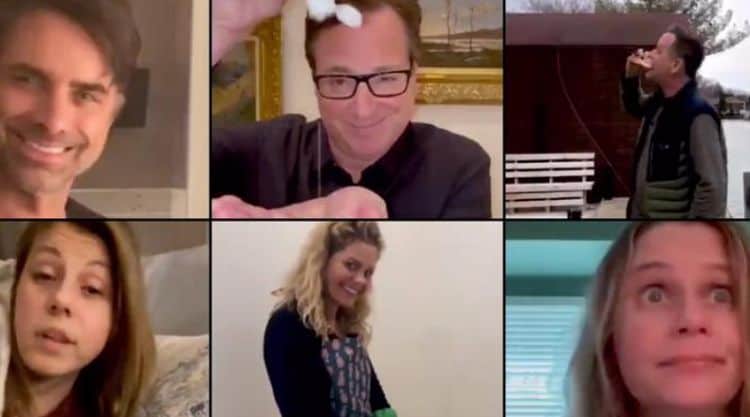 The PSA's from the various celebrities have been informative, sometimes cute and witty, and other times kind of WTF, but overall they've been a way for the celebs to reach out to the fans and try to do their part in keeping people entertained and possibly calm and composed in these trying times. The Full House cast, most of them anyway, have also done their part by spoofing the show with a modified opening theme that definitely goes along with what we're experiencing in our current societal climate and bring a bit of comedy to an otherwise continual and dreary time as we find ourselves still staying at home to help avoid the spread of the coronavirus. As Jeremy Dick of TVWeb points out though one character, Danny Tanner, played by Bob Saget, was definitely on to something back in the day as he was a neat freak that couldn't rest unless everything was gleaming and spotless. While it still sounds kind of funny it's now even more relevant than ever as people are trying to keep everything as clean as they possibly can to avoid the unnecessary spreading of germs and other viruses that could get people sick or possibly expose them to the coronavirus.
"Full Quarantine" – Stay Safe and Stay Home. –Unlike #FullHouse this will all go away. #fullhousechallenge #wewin pic.twitter.com/yOWxmRY276

— bob saget (@bobsaget) April 8, 2020
A lot of us can probably remember when this show first came on the air that it was one of the most popular programs out there and as such enjoyed a rather healthy run and gained a lot of fans. After a while though it did end up being ridiculed quite often by those that either didn't like it to begin with or those that just happened to join the bandwagon. For the most part Full House was a fun and very family-friendly show that didn't always push one issue or another with such intensity that it became edgy in any way, but still managed to explore a few pertinent issues of the era now and again. As of now a lot of people are still into Fuller House, the return that has placed the family back in the same city and the same house. While the Netflix series has definitely drawn people back in and even attracted new fans that either weren't around when the original series was running or were too young to remember, the talk of another spinoff might be kind of premature since if one remembers, Lori Loughlin isn't bound to be around and the Olsen twins still aren't going to be making an appearance since they've already stated that they had no real connection to the show like the others since they weren't old enough to remember any of it. Sad as that might sound for a lot of viewers that grew up with the twins in the picture, and with Aunt Becky, it's still a reality that's not bound to change any time soon.
It might be that Fuller House and this charming Twitter video are about all that really needs to happen with the idea at this time since to be fair, the show has apparently run its course and there's no real need to keep going at this time. Of course many would likely disagree as they've probably become hooked on the expanded family as it's grown and continued forward, but one thing a lot of folks aren't realizing these days is that continuing on with an idea is all well and good, but eventually it does start to drag and people start to lose interest. Those that don't are still plentiful at times, just look at the fan base for the Fast and Furious movies after all, but it's too easy to think that people want more of the same since it's all about comfort and not having to feel overly challenged by anything new that might come along. That's the trick really, no matter how many twists and turns come in a show or a movie series, it's still the same core idea, the same project, and very few things ever really change in a manner that makes the audience stand up and say 'well, I wasn't expecting that'.
Hearing from the cast and seeing them every now and then is great since the favorite faces from Full House are still widely recognized and appreciated given that they brought people so much joy in the past and continue to do so today. Seeing them create a spoof of the show by displaying their common everyday life in the safety of their households is also something a lot of people likely find amusing. In a way it shows people that the stars are taking this pandemic seriously and are doing their part by staying home and doing their own thing just as much as everyone else. That's a message that a lot of people can get behind. Lulu Garcia-Navarro of NPR has more to say on this topic.