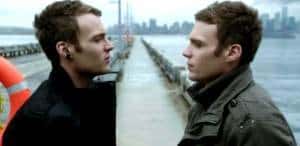 Fringe returns on January 13 with "Back to Where You've Never Been," the episode that should have been the midseason finale before it was pushed back by the World Series. And while Fringe left us on the oddly pensive note that was "Wallflower," Friday's episode will make it obvious that the series meant to go to the winter hiatus with a bang. "Back to Where You've Never Been" is the best episode of season 4 so far, better than previous title holders "Novation" and "And Those We've Left Behind." The episode marks the season gaining momentum after a few episodes of spinning its wheels, and at least in one regard, that momentum is going somewhere. Fringe is back, baby.
Peter seems to have been growing as frustrated as we were with just sitting around, and in this episode, he takes initiative. As the countless trailers and promos released for this episode have indicated, he hatches a plan to the alternate universe, which seems more familiar than our universe, because the ramifications of his disappearance aren't nearly as severe. Of course, that doesn't mean that everyone is friendly. Things don't go smoothly at all (but did you really expect them to?).
Check out these promos and behind-the-scenes photos from the episode.
The episode moves quickly, dodging opportunities to stall and instead hurrying right on to introducing new mysteries — and bringing back some old ones. The episode sees the return of an old foe, while a familiar face is put into mortal danger. Someone we thought would be bad turns out to be good (perhaps), and someone finally gives John Noble credit for great acting. Here's one last little hint: this episode will leave you craving some "Lysergic Acid Diethylamide."
Fringe looks to be heading into what I've been told is an energetic second half of the season. "Back to Where You've Never Been" would have been a fantastic midseason finale, but it makes a pretty great midseason premiere, too. A
Fringe returns on Friday, January 13 at 9/8c with "Back to Where You've Never Been." Check back to TVOvermind afterward for Nadine Ramsden's in-depth review of the episode.