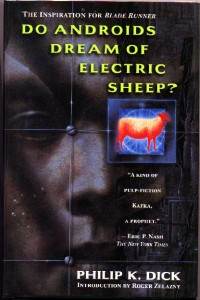 Just when I thought I couldn't love Fringe any more, they go along and name an episode after a Philip K. Dick novel. Don't know who Philip K. Dick is? You're severely missing out; he's the brilliant author who actually laid out the groundwork for almost all modern science fiction. The dark, dystopian, heady sci-fi travels of Fringe have been undoubtedly influenced by Dick's great mind, so in return they're throwing him a shout-out.
Episode 3.04 will be titled "Do Shapeshifters Dream of Electric Sheep?"
Don't get the reference? That's okay. Maybe you'd get the reference if it was titled Blade Shifter.
Do Androids Dream of Electric Sheep? is one of the most influential novels of the 1960s, and served as the inspiration for the classic Harrison Ford film Blade Runner. The novel is, obviously, about androids, but gets into a rather deep realm thematically and starts exploring the nature of consciousness. I don't want to blow anyone's mind too much this early in the morning, but let's just say that this title gives me reason to believe that we'll be delving into whether or not the shapeshifters are actual people with feelings, or whether they're just machines.
It's an even-numbered episode, meaning that it will be the second episode to take place over here. Having seen the first two episodes of this season in advance, I have to say that I'm interested to see where both storylines go, and I'm glad we're getting such a mythologically-heavy episode this early on into the season.
Fringe's third season will premiere this Thursday on FOX at 9/8c with the episode "Olivia." You can read TVOvermind's review of the pilot here. Further season three episodes have been confirmed to be titled "The Box" and "The Plateau," with episode 3.04 "Do Shapeshifters Dream of Electric Sheep?" being the most recent title available.
If you'd like to pick up a copy of Do Androids Dream of Electric Sheep?, head through here to Amazon.com.