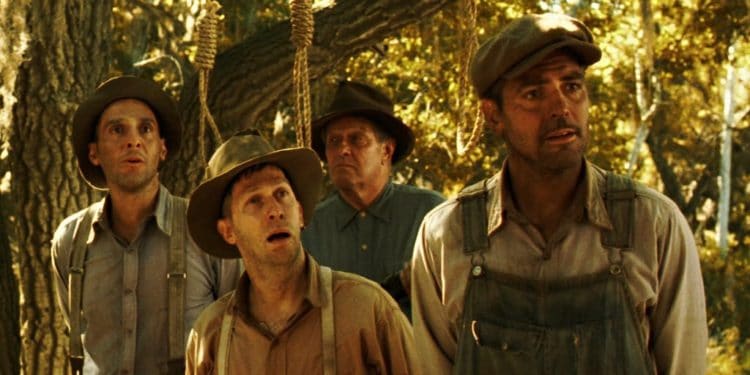 Calling any movie the worst movie that anyone has ever done is a very subjective matter and as such kind of begs that people be understanding about why they've been listed thusly. In the case of the Coen brothers it's all a matter of personal taste and sometimes what the majority of people think about the subject matter being presented. While Coen's have managed to put together some pretty great movies those listed below are still described as some of the worst largely because someone didn't happen to think that they were as good as they could have been. Some of them don't make a lot of sense appearing on this list but that seems to be how things go sometimes since the criticisms and words that are used by so many that feel a certain way about some movies can go a long way towards influencing people and in some ways turning them against movies they might actually like.
So just bear with me as we go through a few of the Coen's worst movies.
5. O Brother Where Are Thou?
Aside from any glaring historical inaccuracies that some people might notice this film it's also fair to say that it has a few moments in it when it does drag and doesn't seem to make a lot of sense. A lot of people would stick up for this movie based on the actors and how good of a job they did but others would like to cite that it doesn't follow the kind of realism that it seems to be promoting all the way through. That being said this would likely be one of those movies that might slip off the list if enough people would admit to liking it since it was one of the favorites when it came out and inspired a great many songs that are still kind of popular.
4. Burn After Reading
Brad Pitt has been in some questionable roles in his time but this one has to take the cake since acting like a rather moronic individual is above and beyond for his talents and still doesn't seem worth his time. But then again the cast of this movie is filled with people you wouldn't always expect to see in such roles and in such a film that doesn't seem to have a brain in its collective head. Of course some might say that this is the genius of the film and as a rule if people hate it then it must be something unique and special. There are those times when people don't like a film simply because it doesn't make a lot of sense most of the way through.
3. True Grit
Unfortunately even with as good an actor as Jeff Bridges is this is one film that shouldn't have been remade in the first place. John Wayne as the main character was someone that didn't need to be emulated or replaced in any way and the idea of creating this movie once again was a big no-no that the Coen's went ahead and disregarded. It's understandable that we're living in the era of remakes and reboots but it's also easy to understand that some movies need to be left the way they are until it seems more feasible to give them a makeover. Even then it's to be undertaken with a lot more grace than this film was given.
2. The Ladykillers
The main point of this film was easy to understand but the way it was brought about just felt downright silly. It was almost as if this was supposed to be a live-action cartoon and the feel of it just got ruined for being live action. There are some great actors in it and you might have expected them to be able to pull this movie out of the gutter where it landed, but this direct-to-DVD stinker was kind of always bound to be the obscure chance for these actors to make something that was kind of amusing to watch but couldn't possibly hold a candle to anything the actors had done on their own or with other groups.
1. The Hudsucker Proxy
This film could have been a triumph but played out in such an odd fashion that it kind of flopped and went nowhere. Like most of the Coen's films it had a star-studded cast but nothing else going for it really since it came out and didn't do much in the box office. It could have been that the Coen's were nervous about working with such a big budget or it could have been something else. But the truth of it is that the Hudsucker Proxy, which could have been great, kind of turned into one of the worst films that Coen's brought to the public.
Just to set the record straight, each one of these films has redeemable qualities, but one has to really look to find them.