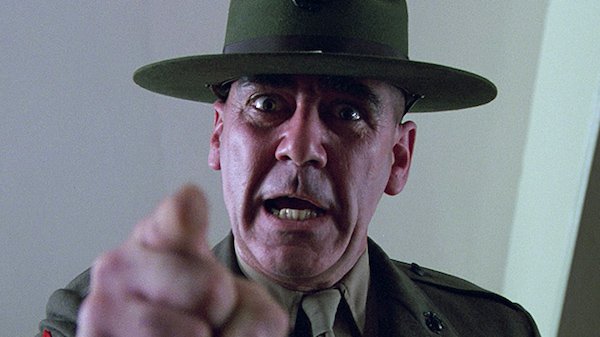 Insulting any serviceman isn't a wise idea, which is why it's so confusing why movies wouldn't bother to get every last little detail right. Of course there are laws protecting artistic license, but when you're attempting to make a film about marines you really should think about making certain that you're not alienating a big part of your audience. Believe it or not a lot of those that serve in the armed forces are also those that like to watch movies about the armed forces. There's a lot of stuff they might let go on a technicality to be honest but it's not nearly enough to make it worth allowing the mistakes below to just fall by the wayside.
Trust me, a lot of marines wouldn't just let these matters go.
5. Firing live ammunition during a training course is not okay.
The idea is to train people to become marines, not give them PTSD before they even get to the battlefield. Plus the probability of an accident happening when live rounds are used is just too great since let's face it, stuff happens and it's not always easy to explain why. I might be wrong on this one but unless you're on the range live ammunition shouldn't be used as a training method, ever.
4. Drill instructors aren't allowed to physically abuse recruits.
There might have been a time and place when it was okay for the DI's to physically abuse the recruits in order to get their point across but it certainly isn't now and it hasn't been seen as okay for a while. This would be a serious breach of ethics and is most likely seen as gross misconduct by many. They might get close enough to scare the living hell out of recruits but they will never physically abuse anyone.
3. Pointing a gun at a fellow marine isn't okay.
Even deliberately pointing an unloaded firearm at a fellow marine is likely to get a person into big trouble if they're caught, but being caught aiming a fully loaded rifle at another marine is bound to get a fellow marine a serious reprimand and if they're supremely unlucky a court martial without fail. It doesn't even matter if you're a marine in this case, you DON'T POINT GUNS AT PEOPLE.
2. The age of the recruits is usually wrong.
In the movies you see a lot of guys that are in their twenties making their way into boot camp. The average age seems a lot closer to 18 or 19 and by the time marines are in their twenties or older they're either retired or career. The movies often make it look as though waiting until the 'right time' or enlisting because there's no other choice is the preferred option.
1. Not all retired marines are strung out ticking time bombs.
https://www.youtube.com/watch?v=nXraLfhAWes
PTSD is a very serious problem that a lot of those in the armed forces deal with, but it's not the end of the world even if one has it. Many of those that are retired from active duty still lead pretty normal lives and have enjoyed their time away from marines. They'll proudly claim their terms of service but won't show any lasting signs of the things they saw or did while deployed.
Marines are the few and the proud, but they're also just people like anyone else.