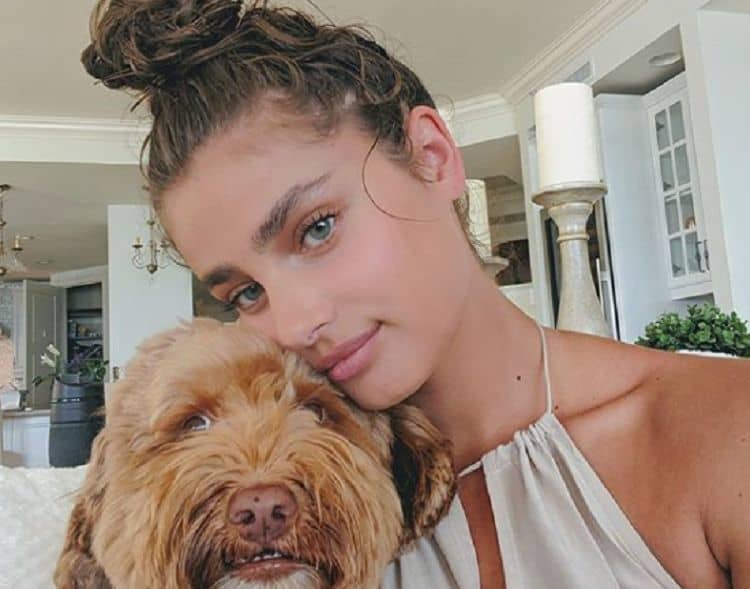 Although you may not know Taylor Hill by name, you'll definitely recognize her face. Currently ranked one of the top 50 models in the world by Models.com, she's appeared on the cover of 27 magazines (though mostly overseas) and has hit the runway for top designers, including Versace, Miu Miu, H&M, and Dolce & Gabbana. By the way, she's done all of this and she just turned 21 years old in March. Before you start to contemplate just how successful you were at 21, here are 5 things you didn't know about Taylor Hill.
1. Despite being feeling invisible except for when she was being bullied in school, Taylor went on to become Victoria Secret's youngest Angel.
It's a story we've heard from plenty of top models, including Karlie Kloss and Shanina Shaik. They were bullied in school and Taylor is no different. In a 2015 interview, she explained that she had been the 'butt of everyone's jokes,' was known as 'tall, skinny Taylor,' and was virtually ignored by boys. At 15, she left school to pursue modeling. Interestingly, she also said 'Last time I checked, nobody remembers that I went to that school. People were shocked when they found out I went there. I didn't exist back in the day.' At 17, she was named VS's youngest Angel .
2. Before she became famous, she starred in a YouTube show with her siblings.
Taylor, along with her older sister (Logan), younger sister (Mackinley), and younger brother (Chase) used to host their own YouTube show. The show detailed their daily hijinks. Today, Logan continues to work behind the camera in the fashion world, but both MacKinley and Chase are models. All three are signed to IMG Models. They've been referred to as the "new Hadids."
She has the tendency to cuss and thought her habit cost her a job with Victoria's Secret.
Taylor was naturally nervous when she auditioned for Victoria's Secret back in 2013, especially when her agent told her that 'Vs is a tricky client.' She assumed after letting quite a few swear words escape that they would pass her over. In a 2016 interview with Evening Standard, she admitted that when her agent called her after the fact that she expected they "were going to say I'd messed up and said the F-word too much." That wasn't the case and she hit the runway for the famous brand in 2014.
She loves to read.
In 2016, Taylor signed on to be the face of Topshop. During a photoshoot for the brand, she was asked about things she liked to do. Taylor quickly responded that reading, especially anything related to science fiction, dragons, or dragons, was one of her favorite things to do. She even admitted that at 13, I read a million words in a year which I'm pretty proud of."
She was discovered in a barn.
When she was 14, Taylor was hanging out at a dude ranch with her siblings in her home state of Colorado. It was there that Jim Jordan, a modeling scout and photographer, approached her and started taking photos of her. He would go on to become Taylor's agent and has made a full time profession out of photographing her. She said that their meeting was 'totally random.'
Save